Panther boys' basketball takes the court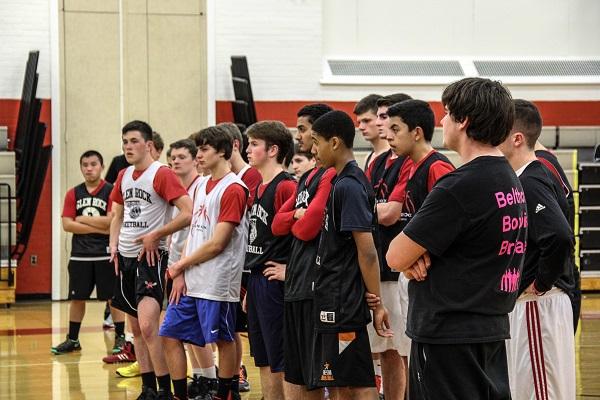 by Tim Fink, Staff Writer
December 1, 2014
The Glen Rock boys' varsity basketball participated in workouts and training camps this summer after finishing the 2013-2014 season second in their league behind Garfield. The Panthers lost in the North 1 Group 2 Quarterfinals to Ramsey.
The Panthers are ready to improve on their record this year by preparing and working hard in the preseason. "We spent the summer working out on average two times per week and attended two team camps: Princeton University, which was an overnight camp which had an intensive workout and strategy. The Glen Rock basketball team also attended a day camp at Ramapo College which also included team-building and strategy," the head basketball coach, Jason Mittelman, said. In New Jersey, there is a state law that forbids the basketball team from practicing formally during the fall season. To remain sharp, though, many players were able to participate in a fall league outside of school run by Hoop Heaven in Waldwick. "Everyone has been putting in the work to get faster, stronger, and to develop our skills," Brady Miller said. Still, there were some obstacles blocking their way.
Injuries from those who are  from a fall sport have been troublesome stumbling blocks. Nevertheless, those who are injured "are trying their best to get healthy for the beginning of the season," said junior Mike O'Hagan. The goal for the players is to stay healthy for the duration of the season and contribute the most they can. If injuries do occur, the team will adjust and others will have to step up.
As for their schedule, the Panthers expect a hard fought season and to continue what they started last year. "It took us three to four seasons to get the program to where we are and none of us want to go back," Mittelman said. The Panthers will play both big and small schools within the region: Pompton Lakes, Passaic Valley, Leonia, Eastern Christian, Lodi, Ramsey, Garfield, Rutherford, Hawthorne, Manchester, River Dell, Westwood, Queen of Peace, Elmwood Park and Fair Lawn. Looking at the schedule, it's clear that there are some tough games in store. Specifically, the schedule has more non-league opponents than last year's schedule did.  Typically, games against non-league opponents tend to be more difficult. However, these matches will show this Panther squad what it is they're made of.
The Panthers only have one Varsity starter returning from last year, Khalil Williams, with a couple other seniors who have some varsity experience, including  Brady Miller and Dan Frissora. The Panthers will have to try to replace the now graduated Jeff Ross, a starter who measured at 6'5" and had a double-double in (double digits in two statistics) almost every game, which is a great accomplishment in high school basketball. According to Coach Mittelman, "This level of experience and thus mental toughness is not easy to replace." Yet, the Panthers have a strong core of juniors stepping up to the Varsity level including Mike Szawaluk, Kieran Rooney, Zach Waller, Mike O'Hagan, Nick Kaukonen, and Jesse Weiss. The team also has a wildcard up its sleeve. "We welcome junior transfer Israel Brown to the program, who we hope will make a positive contribution to this year's team," Mittelman said. The team also expects a contribution from sophomore, Josh Frissora, who has already helped out the team by introducing them to Hoop Heaven for their fall season and is a promising addition, playing guard for the team.
Their motto for the year is "No regrets…Win all day, every day." The first game is Friday, Dec. 19 away against Pompton Lakes.