Who dressed to impress this Halloween?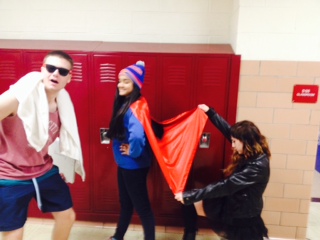 "Drop that mask! That could be considered offensive."
Glen Rock High School encourages students to dress up for Halloween but not without warranted restrictions.
Shannon Doyne, a writer for the New York Times, recently asked students to respond to a simple question: Will You Be Wearing a Halloween Costume This Year?
"People will dress up as whatever they want and can wear anything without getting weird looks from stranger," a student from Glen Rock High School said.
Glen Rock High School, though, has a few rules regarding how students are allowed to dress.
Principal Arlotta said, "We encourage dressing up for Halloween as long as nothing is risqué nor offensive…we also do not allow masks which can be unsafe."
Freshman Isabella Crawford said, "I wouldn't dress up if other friends weren't dressing up and also because of club pictures."
Several other underclassmen were hesitant in dressing up. Many freshmen worried about looking strange at club pictures or did not want to be the only ones to dress up.
But there were also many students that enjoyed wearing costumes to school.
Freshman and costume enthusiast Emily Podd said that she'll "dress up mildly," capping off her response with "duh."
Many upperclassmen, such s Mackenzie Dill (2016) enjoyed dressing up. She dressed up as multiple characters for Halloween, including a Yip Yip (a small alien character popularized by the television show Sesame Steet).
Like many others, Dill had club pictures as a member of the ski club. She believed that wearing a costume to club pictures made it "interesting." She also stated that nobody was surprised she wore a costume because "a lot of other people were doing it, too."
The senior girls have a tradition of dressing up in the same costume. This year, they all dressed up as Waldo for their senior girl pictures. Many students joked, "Where's Waldo?"
Last year the senior girls dressed up as Minions from the movie Despicable Me.
This year, the halls were filled with french-fries, superheroes, multiple gorillas, and a complementary banana costume.
"It was really fun seeing all the cool costumes," a junior said. "It made school more interesting."
Teachers said that having club photos during Halloween was not in order to discourage people to stop dressing up. Rather, it is a way to make the photos much more interesting and a little unusual. After all, many faculty members dressed up as members of the medical community.
It is not uncommon for schools to prohibit costumes altogether during Halloween. A sophomore at Fair Lawn High School revealed that students there were not allowed to wear costumes to school on Halloween.
Luckily for many students at Glen Rock High School, no such ban has been put in effect.
"This is my holiday," Podd said.