Parents, students learn the rules to college admissions
by Lilia Wood, Print Editor-in-Chief
November 11, 2014
"The Admission Game" was presented to the future college applicants and their parents at Glen Rock High School at the end of October, introducing the college application process to families.
The guidance department invited the former Dean of Admission at Franklin and Marshall College, Peter Van Buskirk (who currently works as an educational advocate), to speak in front of students and parents on Tuesday, Oct. 21 in the Glen Rock High School auditorium.
Van Buskirk spoke about the college application process and how to pick the right university. He lectured about the "hidden agendas" that impact college acceptance and addressed the admission rumors that most of the audience believed in.
The attendance of the presentation was mostly parents, or parents with their junior student. The event was announced via email to parents about a month prior. The intention was for the parents to share it with their children. The guidance department and Van Buskirk were both happy with the turnout, as more people came than anticipated.
According to Best College Fit, "The Admission Game" is a dynamic, motivational case study program that has been presented to more than a thousand audiences worldwide.
Van Buskirk has presented two previous times in Glen Rock within the last six years. In the interim, the guidance department presents an informational session about college admissions on junior and senior night.
The evening began with him introducing a pretend college, Easton University which put the presentation into perspective. The audience had to act as the admission department at the university and get in the mindset of the decision makers to accept only one out of four potential students.
Each audience member received a folder when they entered the auditorium with a certain student's profile. The session became interactive when Van Buskirk asked for each students criteria and the audience got to help him.
Like in the real world, the admissions department had the authority to decide which student would get in; unfortunately, sometimes their decisions are arbitrary.
Before the audience got to decide who got accepted into Easton University, Van Buskirk explained  the different types of colleges and what type of people fit at each one.
The selectivity of a university is calculated by how many people apply to the school compared to how many students get accepted.
He introduced the "Pyramid of Selectivity." At the top of the triangle are the hardest, most prestigious colleges because there are fewer of them. Like students, the institutions are competing against one another. For example, Stanford would be at the top because it is the most selective university in the nation, even more selective than Harvard.
Van Buskirk took stress off the students and set the standards when he told them what to focus on, especially during junior year.
"The presentation could be aimed for all high school students, it is maybe tailored a little more to juniors because they are at the start of the application process," said Lawrence Wolff, Director of Student Personnel Services at Glen Rock High School. "It gives them the right mind set to follow and to plan ahead. As they begin their search, to really know what it is they should be looking for and how to go about thinking about the planning and selection process."
Colleges are looking for students who are bright and highly motivated. The students should be diverse and able to created a new community of differences.
"
The best college for you will always be the one that values you for what you have to offer."
— Peter Van Buskirk
Colleges view Glen Rock as a high-powered high school with solid curriculum, scholarly students and high testing scores.
"We have a worthy reputation with the school, but, then again, as he said, they like getting information from us, but colleges like information from the student about the student," Wolff explained. "While schools turn out good students, each of those students are different in their own ways. So what the student has to offer has to fit what the college is looking for."
According to Van Buskirk, roughly 80% of students get into their first choice college.
"The best college for you will always be the one that values you for what you have to offer," Van Buskirk said.
In Glen Rock, the statistic holds accurate if students do their proper preparation. He suggested researching the school and knowing what they are looking for. The student's priorities and the school's criteria should match in order for the highest chance of acceptance.
"Making sure that where you apply is the right fit for you leads to better acceptance rates. So, the more effort you put into it, the better result you are going to get. If you know the school and it feels right for you and it has a lot of positives, odds are the school is going to feel the same about you," Wolff said.
Van Buskirk suggested that students should show schools that they are interested by attending college fairs and meetings and always filling out the card. Also, interviews are vital and can sometimes the deciding factor.
Alumni interviews are less important because they are not paid, but the student should still attend. After any information session, it is suggested to write to the regional recruiter in the area because they may be the one reading the application.
"We are also going to tell you if, hypothetically, if you're carrying a 3.2 GPA and you apply to Harvard, it is not what you call a high probability shot. So we are going to point that out to you," Wolff said.
They will also make sure each student has a plan B in case their first choice does not goes as planned. Each student should apply to target and safety schools as well as their reach.
Students from Glen Rock often go to prestigious universities across the country, but, strangely enough, students gravitate to similar schools. They tend to apply to colleges that they know of and where alumni from Glen Rock attended.
In the Class of 2014, for instance, 26 students applied to Fordham University in New York.
Recently, the department has gotten students to try new and different schools that would fit them the best even though no one from Glen Rock has applied.
"For example, a lot of Glen Rock students may go to a certain school, but that doesn't necessarily mean every student is going to fit in like every other student," Wolff said. "We have gotten a lot of students to see that. It's more looking for the school that works for you rather than a school that everybody else is going to."
Most people going through the college application process are most concerned with standardized testing. It is not clear to the public how much the colleges weigh test scores when they are judging an application.
Van Buskirk addressed that the testing scores are simply a cutoff score that colleges use as additional criteria by which they can accept you or not. Schools use them for their numeric value, but it does not say anything additional about the student.
As of 2014, over 850 schools are now test optional.
"The SAT we have known for a long time does not really measure anything except the College Board expectations of what they feel you should know. The ACT is more about what you actually know," Wolff said. "But how they choose to use it is up to them. They may simply say, we are going to look at this number and anybody below, sorry. The hope is they will won't do that and that is why there has been enough pressure where the whole test optional movement is getting bigger and bigger because the SAT test is really not anything special."
At the end of the presentation, Van Buskirk let the audience decide which student fit in the best at Easton University and then he explained the keys of success. To survive the college application, students must know themselves, know what they're getting into, make good choices, tell their story and believe in themselves.
The guidance department at Glen Rock High School is very experienced, but they also learn more and more each time "The Admissions Game" is presented.
"I learn something every time he speaks. If I ever learned it, I am reminded of it strongly where I might have stopped thinking about it as much as I do. But then he comes back and helps me put things in perspective. It is nice to hear a lot of things I thought confirmed about the way colleges approach things and what is important and what is not," Wolff said.
About the Writer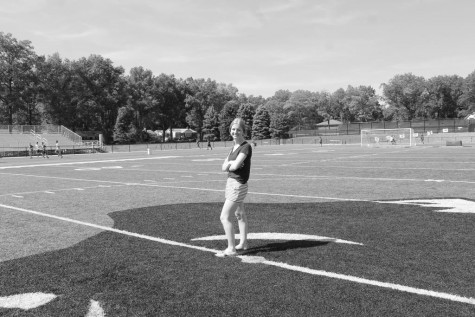 Lilia Wood, Editor-in-Chief
Lilia Wood is the Editor-in-Chief and this is her fourth year working on the newspaper. After she graduates, she plans to study journalism and pursue...