Blast from the Past
"Megan!" Stepbrothers Drake Parker and Josh Nichols yell simultaneously after their younger sister Megan pulls yet another prank on them in the hit teen show Drake & Josh.
Drake & Josh emerged in 2004 as a sitcom about two boys the same age whose two families became one when Drake's mom married Josh's dad. The results turn out hilarious and wild; the two boys go on crazy adventures like meeting and running over Oprah, going on talk shows, destroying a treehouse with a model rocket, buying an orangutan, and making salsa with illegal ingredients.
Drake & Josh was a very popular show while it was running, made four seasons and three TV movies. Nickelodeon, the channel it exclusively premiered on, still airs reruns and plays the show constantly. "Whenever Drake & Josh reruns are on, I always find time to watch!" said Erin Jones (16'), an avid Drake & Josh fan.
There are many classic and beloved episodes within the three seasons.
"My favorite episode is when Drake and Josh get stuck in the treehouse. 'Bring me a snowcon!'" Ryan Stolz (16') recalls with a laugh and a smile.
"I like the one where Josh drops that weight on his foot and then Drake impersonates a doctor and then Megan asks if she can have his, like, belongings – no, if she can have his foot if they chop it off!" Jones commented through fits of laughter. Colin Morrow (17') agreed with Jones and said that Drake & Josh "was my favorite show when I was younger."
The three TV movies made for the show were Drake & Josh Go Hollywood, Really Big Shrimp, and Merry Christmas, Drake & Josh. In the most popular and most recent one, Merry Christmas, Drake & Josh, Drake and Josh are court-ordered to provide a perfect Christmas to underprivileged foster children in a wacky foster family.
"My favorite movie was the Christmas one," said Julie Singh (16'), "and my favorite part was when Crazy Steve puts cheese blocks into a wood chipper and makes snow in California. It makes me laugh every time!"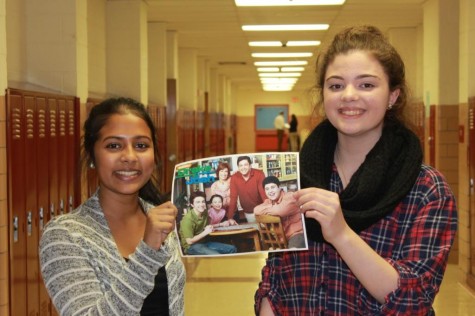 Jones, however, disagrees. "I think Drake & Josh Go Hollywood is hilarious because Josh accidentally stole the iPod and also those fat people on the plane that Josh is in between and they're eating fried chicken!"
On the show, Drake serves as a cool, confident, ladies-man, while Josh is wacky, spastic, and very goofy. The two boys are polar opposites – Josh does well in school and has a job at the local movie theater, while Drake can barely read a book and is the lead singer in his band. "Obviously Josh is my favorite character," said Jones.
The characters of the show all have their own unique qualities that separate them from each other; Drake and Josh's younger sister Megan is manipulative and clever. Josh's dad, Walter, is goofy and dumb. One of Josh's coworkers, Crazy Steve, is insane and has crazy habits. "[My favorite character] is Crazy Steve…he's crazy and he just animates the show," said Morrow.
Nowadays on channels like Nickelodeon and Disney Channel, the shows turned tired and worn out, with reoccurring episodes and reused jokes. "The new ones are so lame, like Gravity Falls? What even is that?" Jones commented on the state of TV shows today.