What you didn't know about your principal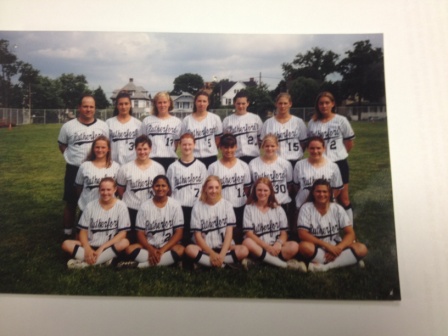 "Have you ever sat down and spoken with your principal?" asked Joe Wladyka, former Head Baseball Coach at Ramapo College and nationally recognized hitting instructor.
"He was a legendary softball coach," Wladyka continued. "It was a bad season if his team had lost more than six games."
Glen Rock High School Principal, John Arlotta was just that, a legendary softball coach.
In his 11 seasons as the head coach at Rutherford High School and West Essex High School, Principal Arlotta compiled a 258-81 record, leading his team to seven league championships.
"At first, I wanted to become a baseball coach at Rutherford, but there wasn't an opening," Arlotta said. "There was an opening as the freshman softball coach, and I took the position thinking that the sports were very similar, but it's a completely different sport."
"I became a student of the game, I went to millions of clinics and learned real quick that it wasn't like baseball," Arlotta said. "I really learned to love it."
Eventually, Arlotta worked his way up and became the varsity coach at Rutherford High School.
From 1992 to 1997, Arlotta was the head coach and a mathematics and computer science teacher at Rutherford High School, but, in the fall of 1997, he took over at the West Essex Regional School District where he advanced from supervisor of mathematics for grades 7-12 to director of mathematics, science, computer science, business, and technology.
Then from 1997 to 2000, Arlotta doubled as an administrator at West Essex and the softball coach at Rutherford.
"When I went for the job at West Essex, one of the toughest parts was leaving my team, so I asked the district if I could be an administrator at West Essex while I'm still the coach at Rutherford and the superintendent was on board and had no problem with the situation," Arlotta said.
For Rutherford, this was the best possible scenario as Arlotta led his team to win 66 straight leagues games against teams in the Bergen County Scholastic League American Division.
"If I recall correctly, we were as high as the number two seed in the entire state in 2000," Arlotta said; "IHA was number one, and we were playing them in an independent game late in the season. My number one pitcher pitched that game and, of course, we go into extra innings and she was starting to tire, but I left her in because I knew that she had been waiting for this moment her entire career."
"
That sort of thing is what you won't forget for the rest of your life.
— John Arlotta, principal
Arlotta continued, "We wound up beating them 2-1 in 13 innings and of course in the next game, the next day, against Ramsey in the state tournament…"
He paused.
"We came out flat, and they ended up beating us 1-0 with the same pitcher from the previous day on the mound."
"It was probably a poor coaching decision on my end. We blew a possible state-sectional final appearance for a meaningless game, but I think seeing my girls go crazy on the diamond, I eventually got over it," Arlotta said.
"It's a very humbling experience.  At first Rutherford was considered an average program, and I'd see the Star-Ledger come out with the top 20 schools and I would dream and think about what it would be like to see your name on that list," Arlotta continued. "I remember the first time that we did that, then you fast forward and you're considered one of the top teams in the state."
"That sort of thing is what you won't forget for the rest of your life," Arlotta said. "Winning isn't everything, it's the relationships that you form with the girls that last a lifetime, even to this day, I keep in touch with most of them."