McDonald sets volleyball up for future victories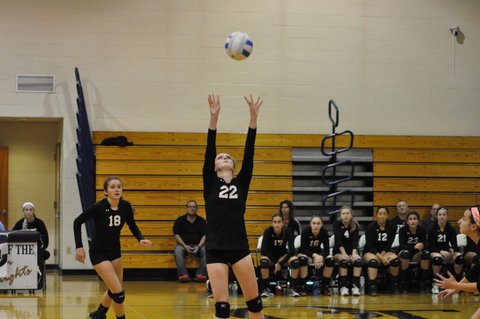 On Oct. 2 at Rutherford High School, the Glen Rock varsity volleyball team was led to victory with help from the exceptional skills exhibited by junior Killeen McDonald with her recorded 38 assists (a set or pass that results in a point for the team) that game.
Perhaps this explains why McDonald has been recognized as a top setter in the state. As of this season, Glen Rock volleyball player Killeen McDonald has been deemed one of the top ten setters in the state. McDonald has worked very hard to get to where she is, according to her coach and her teammates.
Glen Rock varsity volleyball coach, Matthew Kingsley, has been working with McDonald for three years. "This is her second year on varsity as the setter, and she has grown tremendously over those two years," Kingsley said.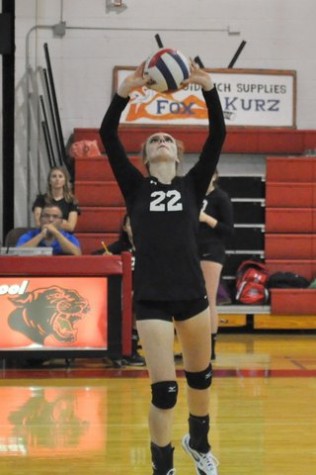 McDonald currently has 28 service aces, 73 service points, 8 kills, 477 assists, 7 blocks, and 45 digs (a pass of a spiked or served ball) for her junior season thus far. McDonald additionally demonstrates skill on defense when she necessary.
As a setter McDonald's responsibility is to play a defensive position first. If the ball comes to the right side of the court it is her responsibility to pick it up.
A setter is a demanding position and requires a lot of athleticism and a specific set of skills.
"Killeen has soft hands which are necessary for being a good setter," Kingsley said. "She is able to get to passes that are not to target and give up chances to kill the volleyball."
One of McDonald's most notable characteristics is her hard float serve. This serve has no spin, which makes it difficult for the other team to read the direction in which the the ball is going.
"On the court Killeen seems unaffected by any emotions, positive or negative," said Ari Berke, friend and teammate of McDonald.
The Rutherford game was one of McDonald's best games yet.
"Having a good team like I do really helps!" said McDonald on her performance.
The team beat Rutherford twice this year, a confidence boost and strengthening factor for the team because Rutherford had been the reigning champions of their league. McDonald played her role remarkably in these wins by providing almost every assist to the kills.
"Volleyball is a true team game and in order for us to have success, all three links (passing, setting, and spiking) have to be working, and Killeen is the middle link," Kingsley said.