Exchange student attends high school from start to Finnish
"I came for the new experience."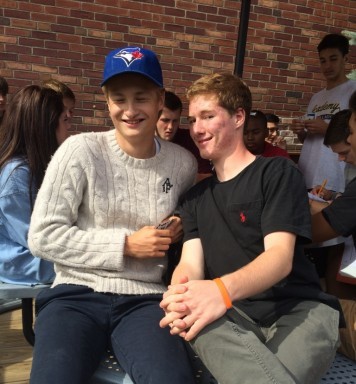 Every new school year, Glen Rock High School welcomes new students with open arms.  This year, the Class of 2016 greeted Glen Rock High School junior Mathias Weckstrom.  Weckstrom isn't a typical new student.  He is a foreign exchange student, joining our student body from Finland.
Weckstrom will attend Glen Rock for the entire school year and is staying with the Connor family.  Kevin Connor ('16) and Will Connor ('17) are both students here at Glen Rock High School.
"It's been amazing," Weckstrom said.
Glen Rock is very involved in cultural exchange programs.  Last November, 18 students from Anne Frank Gesamtschule (Comprehensive School) in Moers, Germany stayed with members of the Cultural Exchange club.  In return, our school brings students to countries such as Germany and the Czech Republic.  This allows the students to learn and experience new cultures, which is what this whole program is about.
Finland is a Nordic country located in northern Europe.  Finnish is spoken there by about eighty-nine percent of the population while Swedish is spoken by about five percent.
"He taught me how to count to three in Swedish," said Kevin, referencing some of the things he's learned from this experience thus far.
Finnish schools are very different than American schools.  An average school day is five hours unlike the American average, which is seven hours.
"It's much more strict here," Mathias said about the school systems.  "I would prefer a mixture of both.  Days are shorter in Finland, but the teachers are better here."
Weckstrom is also a member of the Glen Rock boys' varsity soccer team.
Local students have begun to show their interest in programs like this, as well.
"I would be interested in seeing other cultures.  It is a good opportunity for students to have new experiences," said junior Matthew Isaac, a close friend of Kevin.
"I'd be interested as long as I don't go to Finland because it's near Russia and it's cold and dark," Kevin said. "I'd rather go somewhere warm, like Spain."