Sutera gets the call up, retiring the Glen Rock side
After years of coaching Glen Rock High School's varsity baseball team, Coach Sutera has decided to take on a bigger role.
Joseph Sutera will be leaving his position as a physical education teacher at Glen Rock to become the Athletic Director and Assistant Principal over at Woodridge High School.
Over his nine years of teaching at Glen Rock, Sutera has made an impact at Glen Rock Public Schools. He has won 96 games as a coach, and the athletes were always one of his first priorities. This job has been hard for him to walk away from.
"I think my favorite part of teaching here was just the overall interaction with the kids," Sutera said. "You get into education for a reason, and I think that the reasons why I got into education were because I like to, hopefully, lead by example and not only teach kids about curriculum but how to be a complete person."
It wasn't easy for Sutera to make the decision to leave, but with the love and support he got from his family and friends, the decision became clearer to him.
When asked about the factors that went into the decision to leave Glen Rock, he replied, "First and foremost my family. That was a decision that was a driving force in what I do. It was an opportunity. I went and received my master's degree for a reason."
"You don't know when that opportunity is going to come here in Glen Rock. I couldn't just sit around and wait. It was just the challenges that I think I'm ready to face as an administrator. I have learned a lot from the people here throughout my career, so hopefully I can continue to carry on what I learned here at Woodridge."
Sutera has always been a family man, putting his loved ones before everything else in life. His wife was key in helping him make his decision.
"
I think it's going to be tough, definitely, losing a big leader like him. He did a great job last year in my first year on the team. He was just a great guy to have around and a really good coach."
— Zach Waller, junior
"I spoke to my wife about it. I made sure she was okay with the move first. Everything you do when you have a family, they are the number one reason you do things professionally. It's like what we always tell the baseball team, this is great but winning, losing, the issues you face at school, the one constant in life is your family," Sutera said. "That being very important to me, I had to make sure I have my wife's blessing, and I do, and it made that decision much easier because if my wife would have said she was uncomfortable with it, I wouldn't have been doing it."
Many people in Glen Rock will miss Sutera, feeling that his departure is a big loss for the school. "[I'm] disappointed because Mr. Sutera and I worked very closely. He has been my sight manager during the winter and helped out whenever I needed him. He has been an outstanding baseball coach for us and he is a good family man and he is a nice person and I enjoy being around him," said Frank Violante, the current Athletic Director at Glen Rock High School. "But I am happy for him because it's something he wants to do, get into administration, and I think he is going to do a nice job as an athletic director/assistant principal."
Zach Waller, a junior at Glen Rock High School, played for Sutera last year as one of the key starting pitchers on the team. Waller said, "I think it's going to be tough, definitely, losing a big leader like him. He did a great job last year in my first year on the team. He was just a great guy to have around and a really good coach."
"
I was fortunate enough to be given the opportunity to be a coach."
— Joseph Sutera, former Glen Rock teacher and coach
Moving on to a different school with a new job, there will be challenges up the road for Sutera, but that is what is pushing him toward administration.
"It's a challenge. I didn't always have a passion. I think I developed a passion for it over the years watching what goes on and, as an administrator, no two days are the same. Not that you're tired of teaching, it's just different challenges. As an athletic director and assistant principal, it's going to be an extremely diverse job where I'm going to have to wear a lot of different hats and I look forward to it," Sutera said.
Baseball has always been Sutera's first passion in athletics growing up; he just never knew he had the passion to coach until he was the assistant coach at Rutherford High School.
"I realized how much I liked it, and it was because of coaching that I got back and finished my teaching degree and ultimately the two went hand and hand, and I was fortunate enough to be given the opportunity to be a coach," Sutera said.
This year, the baseball team will have a hurdle to face with the loss of their varsity baseball coach; there are many eligible coaches available for the job.
"We will look to stay in house first. We think we have some candidates within the district who can be our varsity baseball coach and we are going to look for someone who cares about kids and who knows baseball and who is willing to put in the time and effort," Violante said. "Sometime in early October we will start interviewing some people in house and maybe by mid to late October we will hope to have a replacement."
About the Contributor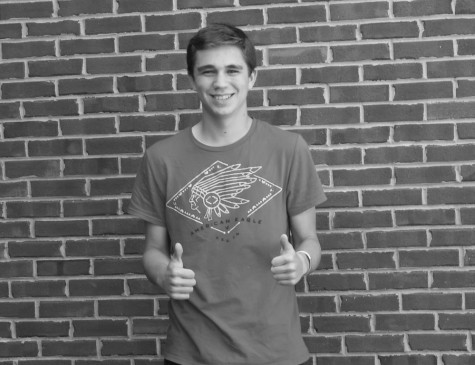 Jeff Buckwalter, Staff Writer
Jeff is a junior here at Glen Rock. Jeff is kind hearted, fun-loving person. Jeff spends his spring playing Baseball; he is a pitcher here at Glen Rock....