Gone Clubbing
Students of all grades swarmed the courtyard during the lunch period to participate in the club walk-around on Wednesday, Sept. 17. Along the grassy area were 17 tables, all offering the students a chance to join their clubs. The weather was warm and sunny, creating a positive mood for students as they signed up for the extra-curricular activities that they felt they would most enjoy.
Among these groups was one of Glen Rock High School's most popular clubs, Model United Nations, hoping for additions to last year's 35 students. The faculty adviser of Model U.N., Katherine Bennin, is excited to be entering her seventh year as head of the club.
"Model U.N. gives students the ability to interact with students from other schools in a political setting," Bennin said. "It also allows students to look at and debate real global issues in the world."
Smiles and laughs rang around the outside facility as students went table to table to figure out which clubs would not only help them, but also allow them to help others. Marino Aldaz, junior, was happy to see that Relay for Life was a returning club. Aldaz was a member of the cancer-research fundraiser group at Glen Rock HS during the 2013-2014 school year, and he loved every minute of it.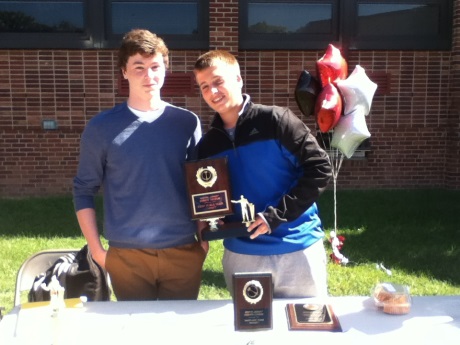 "Relay for Life is a great club that helps with a great cause. I got to help out and raise money for those who needed it. It feels very good," he said.
Some students join clubs for the experience. Some join clubs for colleges. Some join clubs to benefit others. Whatever the reason is, the sign up papers in the courtyard on Wednesday Sept. 17 were not just lists of names. They were commitments to help the school and the community.