Glen Rock baseball reflects on the past, considers the future
The 2014 Glen Rock Panthers Baseball team finished the season, going 13-12 and finished tied with Rutherford for second place in the New Jersey Interscholastic Conference Colonial Division, finishing 10-6.
The Panthers were led by seniors Joey Cinquegrana, Scott Finan, Joe Frissora, Ethan Klein, Jeff Kopyta, Patrick Lawless, Matt Neumann, Matt Szawaluk, and Christain Vila.
This season, Kopyta and Szawaluk were honored as 1st Team All-League selections, along with Christian Vila and sophomore Zach Waller as 2nd Team All-League selections. Pitcher Matt Neumann was an Honorable Mention.
Kopyta finished the season batting .406 with 23 RBI and Szawaluk paced the offense with a .369 average.
Despite a 13-12 record compared to last season's 17-10 record, the Panthers found themselves in some close games in a tough league this season. The Panthers lost eight games by three runs or fewer.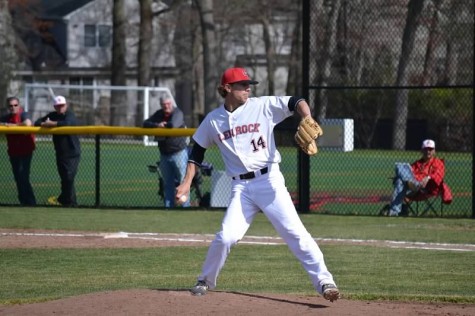 Although Glen Rock lost some tough games down the stretch, they battled their way to beat Northern Highlands, Westwood, and eventual North Jersey Section 1, Group 1 Champions, the Ridgefield Royals.
The Panthers had key everyday contributions from several underclassmen, such as junior OF Parker Chan, junior 3B Brady Miller, sophomore P Zach Waller, sophomore 2B Max Felsenstein, sophomore DH Matt Lange, and sophomore C John Scandale.
The Panthers established themselves with their pitching, getting contributions from Kopyta, Waller, Neumann, Cinquegrana, sophomore Jason Palmeri, sophomore Mike Szawaluk, and Felsenstein.
Junior pitcher Greg Warner pitched in just one game this season against Bergen Catholic before going down with elbow tendinitis.
In the Panthers' North Jersey Section 1 Group 2 Matchup in the State Tournament, they faced fourth-seeded Mountain Lakes.
In that game, Glen Rock went down early in the second inning as the Lakers scored three runs on three walks, two hit-by-pitches, and a sacrifice fly. Glen Rock never rebounded scoring just one run on a passed ball in the fourth inning.
There is always a silver lining in every cloud, and the team next year looks very promising. The roster will have a lot of experience and a great amount of talent.
"We understand what we're capable of," Waller said. ""We just need to put in the work to get the best out of each other."
Glen Rock will be returning six everyday contributors to the lineup as they'll be looking for big seasons from 3B Brady Miller, OF Parker Chan, and a healthy Greg Warner, who will be poised to earn his spot in the rotation and come out of the gates ready to pitch, as the Panthers will rely heavily on Warner in the starting rotation.
Glen Rock Outfielder Parker Chan said, "I think we're going to be a real threat next season, bringing back key players all over the field. If our offense gets clicking next season, we're going to be a serious force to be reckoned with." 
Glen Rock's Catcher John Scandale said, "Watch out Pompton, we're coming."