Review: Gotham City Diner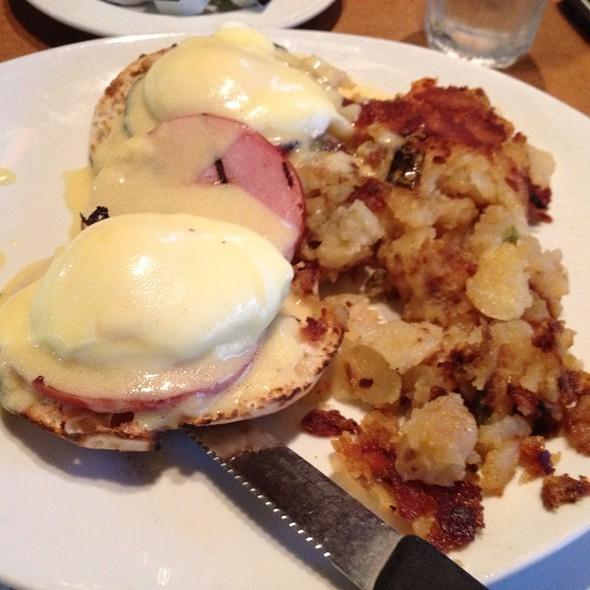 Many restaurants have delicious meals for dinner. Others serve great breakfast foods. But there are not a lot of restaurants where one can enjoy both breakfast and dinner. Gotham City Diner, however, is one of those few.
Located on Broadway Street in Fair Lawn, Gotham City Diner is a little restaurant where one can go at any time of the day for some good food. For their breakfast menu, they have many great options for customers to choose from. They have everything from waffles and pancakes, to omelets and breakfast burritos, as well as many other similarly excellent options.
"I got a Belgium [sic] waffle, it was very good," said junior Khalil Williams.
The menu also has 10 special combinations of different breakfast foods, and they are named as 1st Ave, 2nd Ave, and so on. Many customers enjoy these, as they combine several key components into a delicious breakfast. Justin Powell is among the many to try this item.
"The 10th Ave," replied Justin "was really delicious, especially the sausage links!"
As for myself, I ordered the "Meat Lover's Benny" which was a combination of many different breakfast meats, including bacon, ham, and sausage, on an omelet with cheese and eggs. It was very good, and I would definitely get it again.
As if that wasn't enough, Gotham City diner's dinner menu is equally satisfying.
"I got a bacon cheeseburger. It was delicious," responded junior hockey star Brandon Rosario, when asked what he ordered.
"I got a chicken parmesan. It was fine, nothing special. It was huge though, I couldn't eat the whole thing." Jordan Babin told The Glen Echo about her experience at Gotham City Diner.
"I actually ordered pancakes for dinner, which were good. I also shared some chicken parmesan too. Nothing out of the ordinary, but definitely got the job done." commented GRHS junior TJ Begg, a man whose opinion is well-respected by food critics everywhere.
Rachel Schneider told me all about her experience at Gotham City Diner.
"I ordered a chicken Caesar wrap, and it was really good." On the topic of the restaurant itself, Rachel says "The service was very good, and it was a nice setting too, very comfortable. The prices were also pretty reasonable for the food I was ordering."
I decided to get in on the action too, so I went there for dinner. I was having trouble deciding what to order when one item on the menu caught my eye, the pizza cheeseburger. This unique item is not offered at most restaurants, so I decided to try it out. I was delighted to find it caught the best of both worlds, combining the pizza flavor with the shape of a cheeseburger. I would definitely get it again, and would recommend it to anyone going there.
Gotham City Diner is a nice diner with all-around good food, at reasonable prices. It is a nice, humble, environment, and is a nice experience if you are looking for some good breakfast or dinner food. I'd recommend it.
 The rating: 3.5 stars