The Giving Season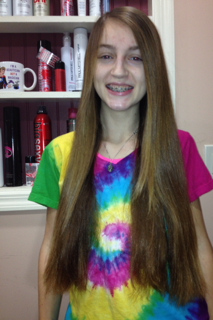 In the midst of the giving season, one student found a way to give something a little out of the ordinary.
Michela Mountain, a Glen Rock High School sophomore, decided to donate her hair.
Michela grew her hair out about two years ago to 2 feet and 8 inches with intentions of donating it, but she did not know which charitable organization to give to.
"I do not have much time, or any money to give, and there is always a cause that is needing help," she said. "I'm glad that I could easily provide something so simple that could make a huge impact in somebody else's life."
When actress Shailene Woodley played a cancer patient in the film The Fault in Our Stars, she had to cut her hair. Michela found inspiration from one of Woodley's tweets in which she stated the organization that she donated to. This organization was called Children with Hair Loss (CWHL).
"I wanted to make sure that it was a reputable organization, and I found out that it is a non-profit, funded by donors, and run by volunteers," Michela said. "It is also free for the recipients of the wigs, and they can receive free wigs every year, up until their 21st birthday, no matter their financial status."
In the past, Michela said that she had donated to organizations that sell the collected hair for profit, but she disregards these now.
On the website for Children With Hair Loss, there is a picture of Regina Villemure. She is the founder of CWHL and a woman with thirty years of experience in the hair business. Her niece was diagnosed with Acute Lymphoblastic Leukemia and, during the visits to the hospital, she saw many patients losing their hair. She then made it her mission to "Cover Young Heads to Heal Young Hearts."
For Michela, giving back was an empowering opportunity to aid those in particular need.
"To many people, long hair is a symbol of power and strength, she said. "I took this to mean that I have the strength, and power to help others."