Who to Pursue, Who to Eschew
A consideration of the leading free agents in the MLB.
1.)    Robinson Cano, 2B
Robinson Cano is the most exciting player that the free agent pool has to offer. Cano, 31, is one of the most durable players in baseball as he's averaged 160 games played over the course of his career.  Throughout the past four seasons, Cano is averaging a .312/29/107 batting line along with 44 doubles per season. In 2013, Cano had a 7.6 WAR (Wins Above Replacement) for the New York Yankees. A player like Cano doesn't hit free agency very often. He brings a punch to any team's middle of the lineup, but if he's going to play second base for your favorite team in 2014, they are going to have to pay a hefty price.
2.)    Jacoby Ellsbury, OF
2013 World Series Champion, Jacoby Ellsbury may be the most versatile player to hit free agency. Ellsbury finished 2013 with a .298/9/53 batting line and led the league with 52 stolen bases. Following an injury in 2010, Ellsbury's 2011 campaign was a career year. He hit .321 and became a 30/30 player using a power surge in the middle of the summer. Ellsbury then failed to reach 100 games played in 2012. When healthy, Ellsbury plays tremendous defense with lethal speed on the base paths. He finished 2013 with a 5.8 WAR. It'll take a huge investment to pry Ellsbury away from the Red Sox's leadoff spot in the order next season.
3.)    Masahiro Tanaka, P
25-year old Tanaka may be an interesting signing this offseason, coming from Japan where he was 24-0 last season. Why sign Tanaka? Scouts say that Tanaka has better mound presence and pitchability than even Texas Rangers Ace, Yu Darvish. Tanaka ended 2013 with a 160- pitch complete game but then came out of the bullpen the next day to throw 15 pitches in relief. There is no question of what kind of stuff Tanaka has, but there is a question on whether he was overused and how much he has left after the "abuse" he took in Japan. It'll take more money just to negotiate with Tanaka than it did with Darvish. But Tanaka will bolster any team's rotation.
4.)    Shin-Soo Choo, OF
Following a superb 2012 season, Choo was traded to Cincinnati and became an instant hit. Choo, 31, hit .285 with 21 home runs as the Reds' leadoff hitter. Not only did Choo strike out less, but he also walked 39 more times than he did in 2012. Choo became the prototypical lead-off hitter for the Reds, adding a big boost of power to his stroke. Over the past 5 seasons, Choo has averaged 19 stolen bases per year to go along with an average of just six caught stealings. You can look for the Yankees and Tigers to be major players for Choo, and you can expect another solid season from the outfielder in 2014.
5.)    Brian McCann, C
The seven-time all-star was plagued with injuries over the last two seasons, so teams will be very careful about giving McCann a large contract. McCann plays above-average defense from behind the plate. McCann drove in over 85 runs from 2006 to 2009 but has failed to reach 80 ever since. Although he does show signs of slowing down at age 29, McCann has hit 20 or more home runs over the past six seasons. An all-star in 2013, McCann brings hope to the free agent market for teams in need of a power-hitting catcher.
6.)    Ubaldo Jimenez, P
After going 13-9 with a 3.30 ERA last season, Jimenez solidly positioned himself as a superb free agent this winter at age 29. Jimenez has had just an average career thus far but has intriguingly shown potential. In 2010, Jimenez finished third in the National League Cy Young award race with a 19-8 record and a sub-three ERA. Since 2011, Jimenez has lost control of the strike zone and has averaged 84 walks per season with just a 4.45 ERA. This winter, teams will sign Jimenez based off of his potential and will hopefully straighten him out to be the pitcher he was in 2010.
7.)    Ervin Santana, P
After posting an ERA of 3.24 and throwing 211 innings in 2013 for Kansas City, Santana has caught the attention of many teams. Like Jimenez, Santana has been inconsistent throughout his career. It seems to be every other season that Santana has been dominant. Although in 2008, Santana had what many call his "career year," posting a 3.49 ERA while going 16-7. It'll be a long shot if Santana gets remotely close to the $100M that he's looking for.
8.)    Carlos Beltran, OF
After bouncing around with four different organizations, Beltran found himself with the St. Louis Cardinals for the past two seasons. Beltran's 2013 season flew under the radar as he finished with a .296/24/84 batting line. Over the course of his 16 seasons as a major league player, Beltran has an average of 104 RBI per season and has topped 300 career home runs and stolen bases. Being 36, you can't expect Beltran to produce at as high of a level as he had been, but he still is a veteran leader that any team would love to have — as he showed during this postseason.
9.)    Matt Garza, P
Matt Garza is much like Ervin Santana and Ubaldo Jimenez, players afflicted by injury and inconsistency. Garza has averaged just 24 starts over the past three seasons. For the Chicago Cubs in 2013, Garza started the season 6-1 with a 3.17 ERA but after being dealt to the Texas Rangers in mid-July, Garza finished his stint with Texas, compiling just four wins and an ERA of 4.38. A Glen Rock High School student said of Garza "he was a different pitcher after he was traded."
10.) Nelson Cruz, OF
Cruz was one of thirteen players to be suspended during the Biogenesis scandal last summer. Without the use of performance-enhancing drugs, teams aren't sure what to expect from Cruz in 2014. Cruz played just 109 games in 2013 but hit an astounding 27 home runs before his suspension. Cruz has shown glimpses of greatness in his career such as in 2010 when he hit .318, but Cruz will turn 34 in July, and we may see a substantial decrease in production next season.
11.)  Hiroki Kuroda, P
12.)  Ricky Nolasco, P
13.)  Mike Napoli, 1B
14.)  Omar Infante, 2B
15.)  Curtis Granderson, OF
16.)  Bartolo Colon, P
17.) Stephen Drew, SS
18.)  Jhonny Peralta, SS/3B
19.)  Tim Hudson, P
20.)  Josh Johnson, P
21.)  Jarrod Saltalamacchia, C
22.)  Roy Halladay, P
23.)  Grant Balfour, RP
24.)  Paul Maholm, P
25.)  Joe Smith, RP
Who to Pursue: Omar Infante
Many teams may fall out of contention for Cano and may look to add second base depth with Infante's .318 average.
Who to Eschew: A.J. Burnett
Teams must be wary of A.J. Burnett's inconsistency and his inability to pitch in a big market. Don't look for a change in scenery for Burnett with the possibility of retirement looming.
All stats are according to http://www.baseball-reference.com/
About the Contributor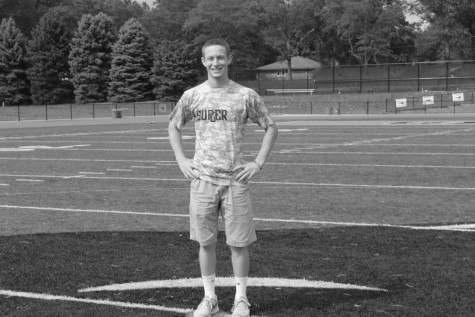 Max Felsenstein, Managing Editor
Max Felsenstein is a senior at Glen Rock High School. For the past two years, Max was the Sports Editor for The Glen Echo. Max enjoys playing baseball...