NY Jets' Midseason Report Card
The Jets head into a bye week with a 5-4 record, shocking for a team that was projected by ESPN to finish last in the NFL. Below, The Glen Echo has given each position of Gang Green a grade for the first nine games of their 2013-14 campaign.
Quarterback… C+
The preseason started off with a huge quarterback controversy in New York. The Jets' struggling quarterback, Mark Sanchez, was getting a lot of heat for a very bad 2012-13 campaign. Then, at the 2013 NFL Draft, the Jets took West Virginia's Geno Smith in the second round, casting an immediate shadow of skepticism over Sanchez's future. To add to that debacle, Matt Simms, son of super-bowl winning quarterback Phil Simms, had a stellar preseason — in the end, the rookie Geno Smith got the nod.
Geno has had as much of an up-and-down season as one can have. He's had marvelous games, including three game winning drives, and a Monday Night gem in Atlanta, in which the 22-year-old threw for a pair of touchdowns and 199 total passing yards.
However, Geno has also had some very bad games. In the Jets' four losses this year, Smith has thrown nine interceptions (at least two per game) and has had a total quarterback rating of under 10 (out of 100) in three of the games.
Give the rookie some time as he has shown a lot of potential, despite the ton of turnovers that have held Geno back thus far.
Running Backs… B
The Jets made a move in the offseason to acquire running back Chris Ivory, a former New Orleans Saint, who has had a decent year as the primary running back. Ivory has had a few games where he has shown his full potential. Against the Patriots in New Jersey, Ivory was a grinder, carrying the ball 34 times and recording over 100 yards rushing. Last week was Ivory's best performance, as he ran wild against his former team, going for 139 yards and his first touchdown of the season.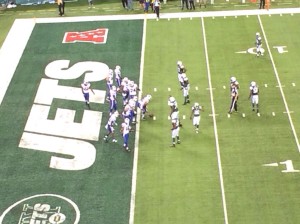 Bilal Powell is the Jets other running back yet, after getting off to a great start, Powell has started to struggle. Powell has had one amazing game, which was at home against Buffalo in a 27 carry, 149 yard effort, but, since then, Powell has averaged barely over 3-yards per carry — in a now limited role due to the emergence of Ivory.
The Jets could've had an even more effective running game, but the third running back in their trio, Mike Goodson, played in only a game and a half before tearing his ACL, placing him on the season-ending IR.
Wide Receivers/Tight Ends… C-
The Jets entered the season knowing that the lack of explosive talent among their receiving core would be a problem, but it got even worse when Santonio Holmes went down with another injury, this time a hamstring affliction.
While Holmes has been sidelined for a portion of the year, no one has stepped up as a true number one receiver.
Stephen Hill is in his 3rd NFL season, and he was expected by many to take a big step this year. However, Hill has very much remained stagnant — aside from one game against Buffalo. Hill's problem with dropped passes seems to have gotten better, but Hill and quarterback Geno Smith have not built up their chemistry yet, resulting in just over three catches a game and less than 50 yards per game (disregarding the Tennessee game in which Hill got hurt on the first play).
Jeremy Kerley has showed some signs of improvement, as he has strung together a few good games (at Atlanta; vs. New England) in which he turned into a huge threat on third down. However, while he has had his moments, he hasn't stood out in many other games. To make matters worse, this past week against New Orleans Kerley injured his elbow, and looks like he might spend time on the sideline, instead of working on becoming a third down threat.
Surprisingly, David Nelson has been one of the Jets best receivers, and a favorite target for Geno Smith. Nelson was acquired after the first three games, and he has played very well and stayed healthy through his first five games as a Jet. The Jets know that Nelson is not part of the long-term future, but, for now, Nelson is doing his job.
At the tight end position, the Jets have flip-flopped between Jeff Cumberland and Kellen Winslow. Winslow was very effective before he got suspended by the NFL for violating the league substance abuse policy, and even though Cumberland was a star in the Atlanta game, dropped passes have held him back, including one that almost cost the Jets the game against New England in week 7.
Offensive Line… B-
The Jets offensive line has had a rough year for their standards. The only lineman out of the five that has played well for the majority of the time is pro-bowl center Nick Mangold. But even the former pro-bowler tackle D'Brickashaw Ferguson has struggled at times and started to decline as a pass protector.
The Jets have allowed over three sacks per game over the first nine games, and they have struggled against good pass rushing teams. The offensive line was once a strong point for the Jets, and it still is, but are they still elite when compared to the rest of the NFL? I don't think so.
Defensive Line… A-
Mohammad Wilkerson, Sheldon Richardson, Damon "Big Snacks" Harrison. The New York Jets "Snack Exchange" is by far the most promising part of this team. Mohammad Wilkerson, the 3rd year pro out of Temple, has done everything this year. From forcing fumbles, to sacking quarterbacks, to even intercepting a pass last week, Big Mo is a star in the making.
While Wilkerson leads the team with 7.0 sacks, the rookie Sheldon Richardson has recorded 2.5, but he is also tied for the team lead in tackles for loss. Richardson's presence to get in the backfield has made him the "steal" so far of the 2013 draft, and a potential pro-bowl candidate, as well as Mo.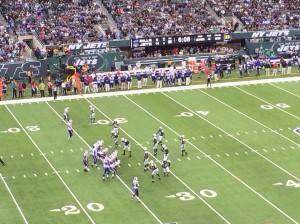 Luckily for New York, they have arguably two of the best young defensive players in the game right now, and if these guys keep it up, the Jets should be getting in the faces of quarterbacks for many years to come.
Linebackers… B+
The Jets linebackers have had a very solid year. David Harris still leads the defense, but the line-backing core got younger with players like Demario Davis and Garrett McIntyre getting time at the position.
The Jets, like usual, make defense their main priority, and that means, in "Rex Ryan language," STOP THE RUN. The defensive line has had a huge impact on stopping opponent rushers, but the rest of the Jets front seven has helped hold opponent rushers to 3.1 yards per carry and only two rushes of more than 20 yards.
The Jets have made it a priority to add youth to their team, and for a line-backing core that once was a bunch of old guys, the Jets turned it in to a slew of young players such as McIntyre, Davis, and Quentin Coples, who happened to make one of the biggest plays of the game on a fourth and inches this past week in a win against the Saints.
Secondary… C
The secondary has been just as up-and-down this year as the team.
Pro-bowl cornerback Antonio Cromartie has not made up for Darrelle Revis' absence, nor has he even stood out. Cromartie finally got his first interception last week in his ninth game, and it was a "vintage Cro" one, as he slid his feet along the sideline to stay in bounds.
Cromartie, a few weeks back, also gave himself a "C" grade for his season's performance.
Dee Milliner is the other cornerback for the Jets, and after getting off to an atrocious start, in which he was benched in two of his four starts, the former Alabama star showed signs of good things to come last week. Milliner did get beat once, but he also made two outstanding plays defending the pass, and was inches away from grabbing his first career interception. I am not sold on Dee after one good game but at least the Jets fans know that he has the potential to play well.
Kyle Wilson and Darrin Walls round out the secondary as the two weakest players. Even though Walls has showed signs of improvement, both these two guys are below average cornerbacks at this stage in their careers, especially Kyle Wilson, who has been deemed a first round bust after three and a half miserable years.
As for the safeties, Antonio Allen and Dawan Landry have played better than expected and each have hand standout plays. Allen had the pick-six that started the rally against New England, and Landry had a tipped pass that ended-up being intercepted by Demario Davis in this past weeks game.
Special Teams… A+
Nick Folk has been called "Ice Cold" this year, and he deserves the highest grade possible. Folk is perfect on field goal attempts this year (23/23) with a long of 50, and three game-winning field goals. Those are pretty good numbers for a guy that had to battle two other kickers for the starting job on this team.
Overall… C
Coming into this season many experts were predicting the Jets to win 4 games over the entire 16 game season. The Jets go into the official second half of the season with a solid 5-4 record, second in the AFC East, and ½ game ahead of three teams for the final wild card spot.
Before the year the Jets were thinking .500, now the Jets are looking ahead to a potential playoff run. Can you believe it?
Leave a Comment