Fresh athlete hits the volleyball court
Playing in her first varsity game, freshman volleyball player Paige Lemieux has done a lot to get to where she is today.
Making a varsity sports team as a freshman is something many student-athletes aspire to do, and volleyball player Paige Lemieux has done just that. The most impressive part, though, may be that she has only been playing volleyball for two years.
As a ninth grader on the Varsity team, Paige needed to first overcome the internal pressure before facing the opposition. "Yeah, I was nervous because all the girls were older than me," said Paige.
Although the girls are all older, that does not stop them from welcoming a valuable addition to the squad.  The upperclassmen have been true teammates to Paige, both on and off the court. "All the girls are really nice and they'll, like, say 'hi' to me in the hallways," Paige said.
Although she has years to go, Paige has already considered the future. "I'd like to play in college," she said, "because I think it would be fun and good. But I'd also have to manage it with time at college, but, yeah, I'd like to."
Paige already has a 'dream team' in mind, too.  She would join "Penn State, because they're really good and, like,the best. But that would be really hard because they're amazing."
Although she has been a member for only a short time, Paige has already gained much.
"It's fun because I got to meet a lot of new people that I wouldn't have met. But it's also different because the coach expects a lot more from you," said Lemieux.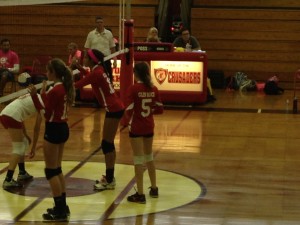 View Comments(1)