Satire: Alleged Locker Bandit Still At Large
GLEN ROCK — Wednesday, September 25, 2013: 1:45 PM. A student finds a piece of paper on the ground, folded into quarters and covered in coffee stains, the contents of which insinuated a serious and heinous crime against another student.
The note, discovered by Tim Mountain (Junior at Glen Rock High School) as he was en route to the bathroom, was found lying in the Freshman hallway. Curious, Mountain inspected the folded paper (found in front of locker S196), only to find the appalling message contained within: I just took something from your locker it was OPEN!
Not only did the lack of proper comma usage greatly offend the GRHS student, but he also became immediately fearful for the safety of every-other-students' lockers – places that had once been sacred to all those who have graced the halls of Glen Rock High School.
Upon smelling the paper, Mountain concluded that the stain on the surface of the paper still smelled of coffee, leading him to believe that the crime had been perpetrated earlier sometime that very morning.
Further inspection of the newly-discovered crime scene proved to be fruitful: An additional piece of paper (torn from the "September" section of a High School agenda), a black hair clip, and a dirty, oil-smeared piece of three-hole-punched, wide-ruled white paper were also recovered. All items are considered "evidence to a supposed crime," and are being held in the Glen Echo's evidence locker for future reference and cataloging. It should be noted that no authorities were involved in this deductive Sherlock Holmesian reasoning at any point — such heat would be superfluous.
When Junior Melnie Kindle* was interrogated and faced with these allegations of theft and criminal behavior, she showed apathy towards the fact that there may be a "Locker Bandit" in Glen Rock High School, saying, "I hate my locker. I don't really care."
Junior Jonner KeeKee* would also like to give, "[A] shoutout to my mom."
At this point in the investigation, neither the gender of the culprit nor the gender of the victim can be determined. With this in mind, the presence of the black hairclip at  the scene of the crime points to one (or both) of the parties involved being potentially female (but such an item does not rule out a long-haired male). Furthermore, Junior Carline Matello*, who considers herself to be an expert in the identification of handwriting, has determined that the writing on the torn section of the agenda belongs to a female. However, Matello* has found that the writing on the note in question more resembles that of a male.
Junior Frankie O'Connor* provided insight into the fear that some Glen Rock High School students are feeling. "I'm really scared if I think people are going to be pouring coffee on my papers. Terrifying prospect, isn't it?" he said.
Karlo Connell*, also a Junior, gave his opinion: "Well I don't keep… like… the stuff in my locker isn't that important. So I guess I don't really care that much." The writer, as well as the editor of this article, can only see these personal accounts as signs of the growing concern among the Glen Rock High School student body, in regards to the alleged "Locker Bandit."
The brave members of the unofficial (and entirely nonexistent) GRHSDA (Glen Rock High School Detective Agency, an unrecognized subsidiary of the Glen Echo) that have been assigned to this case have assured us that whoever is terrorizing the lockers of Glen Rock High School (if anybody is) will be captured soon.
Until the offender is apprehended, substitute teacher and former FBI agent Mr. Colgan shared some helpful advice for any student that has, or knows anybody that has a locker: "Don't share your combinations with anybody."
Thank you, Mr. Colgan.
View Comments (3)
About the Contributor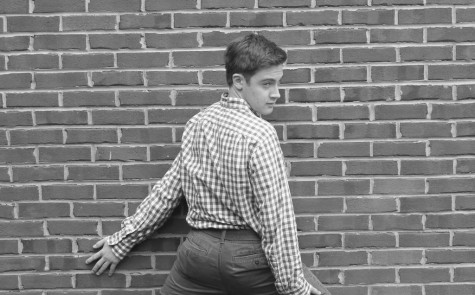 Tim Mountain, Copy Editor
F. Timothy Francis is a senior at Glen Rock High School and is very smart and handsome and cool and nice. He is a great boy and he loves his mom. His mom...