A great addition
New faculty member Alyssa Perry is a first year math teacher at Glen Rock High School, along with the Fall Varsity cheer leading coach. She is a former cheerleader and graduate from Rutgers with a background teaching at Mount Olive High School.
Miss Perry previously taught at Mount Olive High School in Mount Olive Township, NJ until she moved to Glen Rock High School, where she teaches two Geometry classes, two Algebra I classes, and one Algebra II class. Although she has only been here for four weeks, she already loves it at GRHS.
"The class is unique and fun with time for a good laugh, but in the end the works gets done thoroughly and is easy to understand with Miss Perry's technique and talent," said freshman student Matthew Schlett.
Miss Perry graduated from Rutgers College in New Brunswick, New Jersey. She has always had a knack for math. Following her passion, she decided to pursue her Master's Degree and Bachelor's Degree from Rutgers, ultimately becoming the math teacher she is today.
"When I came for my interview, I really liked the environment here. And there was a sense of community here," said Miss Perry.  After the experience of transferring from Mount Olive to Glen Rock, Miss Perry said, "It's smaller here, and the students are more ambitious as well."
Miss Perry misses her students at Mount Olive but is ready for the new school year at Glen Rock with all her new students.
"I think that Miss Perry is a really good teacher and she is easy to relate to because she is s young," said GRHS sophomore Nicole Jones
"She's a nice teacher and the way she teaches is very easy to understand" added freshman Jennifer Singh. "She does not rush through and takes the time to explain difficult concepts."
Miss Perry is not only a teacher, but she is also involved with extra-curricular activities too. She is the Varsity Fall Cheerleading coach.
"Coach Perry is such a great addition both academically and for the cheer team. She's a lot of fun but also educational at the same time," stated Varsity Cheerleader and sophomore Juliana Roddy
We at GRHS believe that Miss Perry will do much good for the students during the 2013-2014 school year and many more years to come.
Leave a Comment
About the Contributor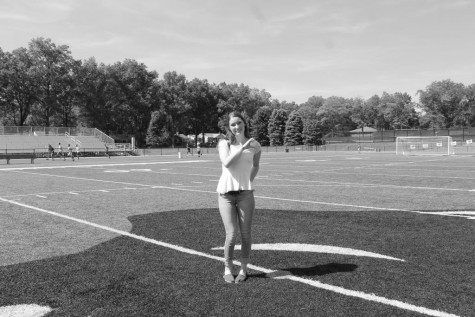 Beth Keefe, Multimedia Manager
Beth is a senior at Glen Rock High School and has been writing for The Glen Echo for three years. Beth's favorite place to visit is Disney World, she has...