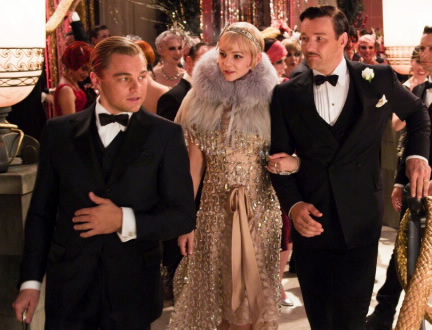 It's the summer of 1922, and the country, as well as fashion, is in its post World War I revival: these styles are idealized in the newly released film The Great Gatsby, based on the American classic by the same name.
Opulent pearls, sequins, fur, jeweled headbands, fringe, and pristine suits take over the fashion scene in The Great Gatsby (2013) film directed by Baz Luhrman; the wardrobe, memorialized in the novel by F. Scott Fitzgerald, retains an important role in describing the era and materialism. Catherine Martin (Luhrman's wife) was the costume designer of The Great Gatsby. Martin incorporated costumes — 1920's style — but also wanted to add some modern touches. "There needs to be a frisson of the new for people to actually understand what it was really like to be there in the Twenties," says Martin in a Vogue.com interview. She explained that since the time period was changing rapidly (socially and culturally) in the 1920's, the 2013 audience still needed to be able to identify with it. By using designers that are popular today, Martin connected the audience.
Tiffany & Co. provided all of the jewelry featured in the film, taking cues from their 1920's style archives. Prada and Miu Miu updated flapper-esque dresses with a modern edge, recalling the 1920's "liberated woman" style. The men's formal wear brand, Brooks Brothers, also provided over 500 suits for the film (which you can purchase in their Great Gatsby Collection in stores and online [including Gatsby's infamous pink striped linen suit]). Interestingly, Fitzgerald himself was a fan of Brooks Brothers, so the label's incorporation into costume designs would likely have been approved by the novel's original author.
The Great Gatsby fashion captivated audiences throughout the film, and it was imperative to develop the theme of materialism and wealth in the movie and the book. The "shirt scene," where Daisy tours Gatsby's enormous closet, is short but memorable: Gatsby tosses piles of colored oxford shirts to Daisy from the balcony of his closet. "Such beautiful shirts!" Daisy exclaimed, as Gatsby informed her that they were imported from Europe.
The clothing worn to Gatsby's various parties by party-goers were over the top but visually enticing.
"There was a lot of emphasis on appearance…Catherine Martin's costumes were extremely helpful in making me feel that I was Daisy," explained Carey Mulligan, who played Daisy (Great Expectations: 
The Inimitable Carey Mulligan, Vogue editorial).
The fabulous flapper fashion of The Great Gatsby is unforgettable and essential to the film's overall success. Ultimately, though, the mark left by the wardrobe must be seen — so, go out, see the movie, and enjoy the glamorous Great Gatsby fashion!