The Interesting Story of Newark Mayor Cory Booker (D)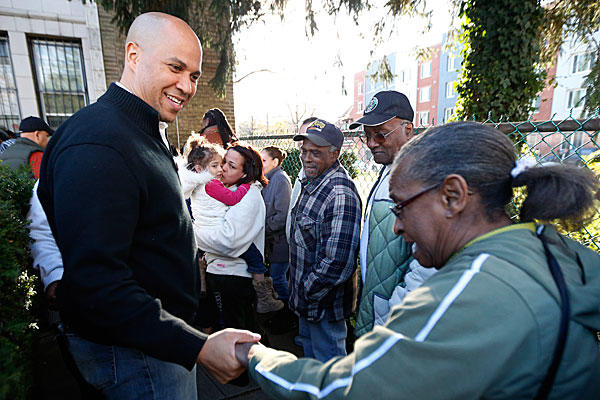 Recently, Newark Mayor Cory Booker has inundated the news media. The Democrat is mayor in a city that is home to corporate giants such as Prudential Financial and PSEG. The city also boasts a list of cultural venue centers such as the New Jersey Performing Arts Center, the Prudential Center, the New Jersey Institute of Technology, etc. However, it's not the success or improvement of his city that has allowed him to gain a national reputation. Rather, it has been his consistent personal involvement in people's lives. For example, he has lived on a "food stamp" budget to illustrate the importance of food insecurity, shoveled the driveway of a constituent based upon their request, rescuing a dog from freezing winter weather, saving a woman from a house fire at his own risk, etc. Therefore, given all of this information, understand that when Cory Booker makes any rumbling about future political ambitions, Washington D.C. and his own constituents listen hard.
In December 2012, ABC News reported that Booker is "exploring the possibility" of running for the US Senate rather than Governor. In a letter posted on his website, which ABC was referring to, he said that he will finish his term as mayor and consider running for the senate in 2014. "I look forward to consulting with Senator Lautenberg," Booker, who's African-American, wrote. "During my lifetime, he has been one of New Jersey's most important leaders".
Senator Frank Lautenberg, for his part, issued a statement saying that he is focusing on the tasks at hand, including a "disaster relief bill for New Jersey and addressing America's broken gun laws." "The last several months and weeks have been a painful time for New Jersey and America, and the Senator is working on the tough issues we face," according to a statement from Lautenberg spokesman Caley Gray. "This is not the time for political distractions and the Senator will address politics next year."
In January 2013, Lautenberg made his first public comments after Booker said he planned to run in the US Senate race. Lautenberg scolded Booker by saying that he may need a "spanking" for being "disrespectful." He added, "I have four children; I love each one of them. I can't tell you that one of them wasn't occasionally disrespectful, so I gave them a spanking and everything was OK."
Therefore, after ultimately announcing his retirement from the US Senate on February 14, 2013, the seat opened up for Booker immediately. However, there are legitimate questions that can be asked about how Cory Booker handled this episode. First question: Given that Sen. Lautenberg has been suffering from cancer and other illnesses recently, why did Booker take what could have been a smooth transition of power and make a problem of it? Second question: Why did Booker feel the need to express his desire to run for the seat if he knew he would beat Lautenberg in a democratic primary? Lautenberg would be 90 years old in 2014!! Third question: How does his handling of this episode reflect on how he will treat a national presidential run, if there is to be one in the future?
In conclusion, every political junkie in the world knew that Lautenberg would retire very soon and Cory Booker would win the senate seat in a deeply blue state. However, that's not the point. The point is that had Cory Booker approached this inevitable retirement differently, he may have been able to retain Lautenberg's backing, establish a smooth and orderly transition of power, and salute the old man. But that situation did not happen. One could argue that Booker "jumped the gun". Also, realize that Booker is only 43 years old and has much to learn about the inner workings of the political system.