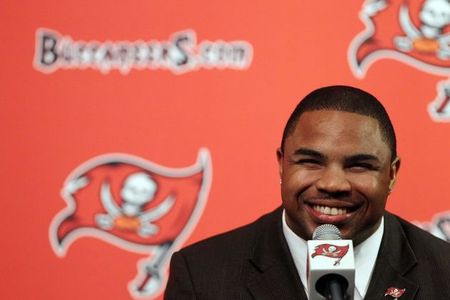 This year's NFL draft in April didn't provide teams with many (projected) stellar running backs, with the exception of Trent Richardson. The Alabama star was drafted third overall by the Cleveland Browns but, aside than him, only two other running backs were chosen in the first round. Doug Martin and David Wilson were selected with the last two picks of the round. As compared to running-back-heavy drafts (like the one in 2008), the amount of running backs produced from this year's draft is almost laughable.
Everyone expected Trent Richardson to be the gem-in-the-rough from this running back class; however, nine running backs have gotten quality playing time out of this draft year. It is usually recognized that the NFL is turning into a pass only league, so these running backs coming out of the draft as hard and solid runners adds a fantastic aspect to the game.
Along with the contributions that these running backs have made to their NFL teams (players like Doug Martin of the Tampa Bay Buccaneers and Alfred Morris of the Washington Redskins), they have also saved fan's fantasy seasons. Each were steals of the late rounds, and Doug Martin especially has proven that he can be a focal point to any fantasy team. In standard scoring leagues, Martin ranks third in scoring for running backs behind only Adrian Peterson and Arian Foster. The sixth round draft pick out of FAU has been a huge surprise this year, as Alfred Morris ranks tenth among all running backs.
These running backs may prove to change the culture of the NFL in itself. With Trent Richardson, Doug Martin, and Alfred Morris all being opening-day starters, those teams will draft around these players to enhance the running game.
Many of these running backs have gotten opportunities due to injury and most have excelled. David Wilson of the New York Giants got the bulk of the carries when Ahmad Bradshaw was hurt, and he had two running touchdowns to complement a 97 yard kickoff return. The Eagles looked to be completely hopeless to win another game after LeSean McCoy went down, however, seventh round pick Bryce Brown has embraced his starting role, averaging a stellar 5.7 yards per carry. Ronnie Hillman, Lamar Miller, Robert Turbin, Vick Ballard, and Daryl Richardson have also made significant impacts to their teams.
Look out for these running backs in years to come. With a dearth of young quarterbacks aspiring to become quarterbacks of Tom Brady's or Peyton Manning's standard, look for the league to take a turn and become more of a balanced attack like it once was.