Freshmen light up the science hallway
November 5, 2014
On Monday, Oct. 20, the freshmen class of 2018 turned off the lights for their first ever homecoming hallway. The Fluorescent Freshmen set the hallway aglow with neon duct tape, brightly colored streamers, light bulbs, and an assortment of lights and disco balls.
The theme of the hallway, Fluorescent Freshmen, was voted on by the students via an online poll. Other ideas such as Fairytale, Flying, and Frozen Freshmen were also proposed.  Hallway decoration concepts often use these alliterative titles.
"One of the freshmen, Janine Downing, came up with the idea," said freshmen class adviser and science teacher Mario Porciello. "It was a close race between Fairytale Freshmen and Fluorescent Freshmen."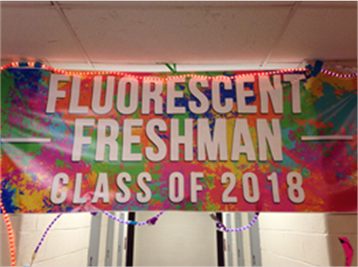 This is the first year that Porciello is a class adviser. He is joined in the task by Jacqueline Stoller, a special education teacher, who is also in her first year as a class adviser.
Yet the two are definitely not without assistance.
"Ms. Davitt and Ms. Forstot have been excellent help. They taught me a lot and gave me a lot of information," Porciello said. "Ms. Walter, senior class adviser, her two daughters are in class council, she has been a great help. I'm very close with Ms. Patel and Ms. Ammirata so I talked to them."
The freshmen who helped stayed after school until 7p.m on Oct. 20 to complete their hallway.
Prior to the day of decorating, however, many meetings were held to plan for this occasion. The class received donations of neon duct tape, string lights, a disco ball, a black light, and other supplies. Many students and members of the class council came after sports or other after school activities to lend their assistance.
"
Other classes have some of the summer time to do planning, and we have two weeks. Between deciding who the class officers are and planning, we don't have that much time."
— Mario Porciello, freshman class adviser and science teacher
The class officers also played important roles in the construction of the hallways. Porciello said that the "class officers work really well together."
Class officers Nicholas McRae, Hiroki Doyle, Jean Walter, Rena Mototani, and Tom Consoli led the planning and decorating of the hallways. McRae, president of the freshmen class, was happy with the choice of theme this year and enjoyed decorating the hallway. His favorite part of the process was "getting to stay in school for twelve hours in one day."
Yet that did not mean the decorating was without its challenges.
"We did not have anything that could help us reach the ceiling. We were basically stretching as far as we could. Then someone finally brought a ladder," McRae said.
Time constraints also made the decorating more difficult for the freshmen class than any other.
"Other classes have some of the summer time to do planning, and we have two weeks. Between deciding who the class officers are and planning, we don't have that much time," Porciello said.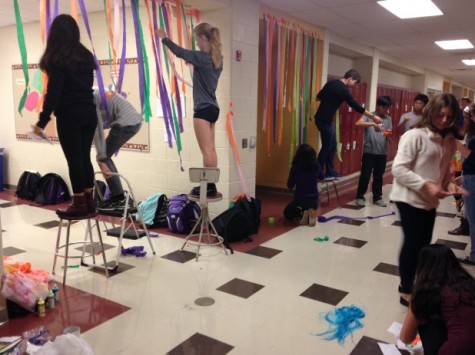 Decorations, such as painted paper light bulbs, were placed on each locker. Table cloths splattered with paint were taped over the lights using neon duct tape. Colorful streamers hung above doorways. Other paper and cardboard decorations were arranged throughout the hallway.
In the center of it all was a construction known as the "Black Room." Draped with black table cloths, the "room" was filled with multicolored lights. Disco balls, lava lamps, a black light, and string lights were placed inside a display cabinet.
"I think making the Black Room was the best part," said recording secretary, Jean Walter.
This sentiment was echoed by many other students who helped make the hallway.
"I didn't do it, but it looks amazing!" said freshman Lizzy Bonica, referring to the Black Room.
Overall, the hallway received positive feedback from students, teachers, and parents.
"I've been getting pretty positive feedback. A lot of people showed up to help decorate the hallway. More so, we've gotten a lot of feedback from the parents," Porciello said. "We had a lot of participation, more than I ever expected, so I am really happy about that."
The students that helped out were happy with the results of their time and effort.
"I thought that we did a really good job this year," Walter said. "Everyone here worked their butts off. Way to go!"
Last year, the freshmen class's "Flintstone Freshmen" hallway was reduced to rubble by a group of unknown students. This was a cause of concern for this year's freshmen class who were concerned that their hallway might end with a similar fate.
"People should not rip it down," freshman Madison Jones said.
President McRae said: "Please don't rip down our hallway. That would make me really sad."
Luckily for the freshmen class, the hallway stayed in one piece until it was formally disassembled at the end of Spirit Week.
The students also had suggestions as to what could be done better next year.
"I think we need a little more people next time," Walter said. "We need to come for the preparatory meetings and everything, just so we can get more stuff done and have an even better hallway next year."
Other suggestions included improved neatness when working on decorations and more decorations to put up.