June 15, 2020
For many children and teenagers suffering from anxiety, school is a place where nerves are often at their height; at Glen Rock High School, academic pressures, such as report cards and tests, as well as athletic pressures, like making the team and winning games, are common among students, according to Laura Vargo, one of the school's guidance counselors. For older students especially, the college admission process and planning for the future are triggers for anxiety, often fueled by parental pressures as well. Both Glen Rock Middle School and High School faculties work to support students feeling anxious, and encourage them to ask for help.
"It is important that our students know that they should talk to an adult and not wait," Vargo said. "Students can talk to their counselor, teacher, coach or trusted adult in the building."
Even for students who do not face chronic anxiety in their everyday life, school work can be overwhelmingly stressful. Yethmie Goonatilleke, a freshman at Glen Rock High School, has found that the pressure of grades and assignments is a constant topic of conversation amongst her and her peers. She admits that she would be upset if she received a bad grade, regardless if she knew the material. However, students like Yethmie understand that teachers must adhere to their set agenda, and feel that in a time of true stress her teachers would likely be more lenient and understanding.
While many high schools work to offer as many supportive outlets as they can for students facing mental health issues, one of the greatest triggers for anxiety exists in many of these students' homes, and follows them throughout the day, in school and out: technology.
Before the usage of smartphones and other smart devices took over homes across the country, students could go home and relieve some of the pressures they felt throughout the day. Now, social media is not only a part of many teenagers' lives, but is an extreme disruption and threat to mental health. The effects of social media on mental health have not been extensively studied, as social media is still a very recent addition to society.
For people suffering from anxiety, there are a variety of ways they can work on overcoming this illness. Common solutions include psychotherapy, especially cognitive behavioral therapy (CBT), medications, as well as seeing specialists, like clinical psychologists or psychiatrists. The goal of psychotherapy is primarily to maintain good mental health, while types of psychotherapy like CBT have more specific aims; in this case, CBT focuses on changing thought and behavior patterns for the better. Therapy can be effective in reducing patient anxiety, but the use of medication is often another step. For patients with severe anxiety, antidepressants are common. However useful, these medications are known to have side effects needing consideration.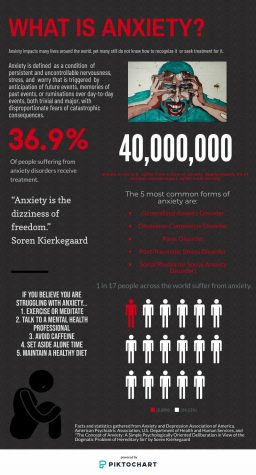 These measures may seem out of the question for some depending on their access to therapists or psychiatrists in their area, but there are many ways to reduce anxiety through self care. Exercise and meditation are especially useful in dispelling nerves. But even beyond these treatments, it is vital for people struggling from anxiety to be open with their issues with a trusted friend or family member. In general, discussion about mental health must become encouraged, and shouldn't be an awkward or uncomfortable topic.
This stigma surrounding mental health is being combated by Stigma Free initiatives across the world. The Bergen County Stigma Free Initiative has been working with members of the community to make mental health an accepted issue. 
Fort Lee High School in particular has worked with Bergen County Stigma Free to improve their approach to handling mental health. The faculty of Fort Lee High School recognizes the need to prioritize mental health for students in their school environment. The school has collaborated with Bergen County Stigma Free through running events which tie into the efforts of the Stigma Free Initiative, such as Red Ribbon Week and School Violence Prevention Week. Town-wide events organized by Fort Lee Stigma Free such as a Stigma Free Fair have further solidified the town's dedication to improving the perception of mental illness. David Cuozzo, the Student Assistant Counselor at Fort Lee High School, has been working at the high school for six years, and has made many efforts to bring student mental health into the conversation. 
"I would say the most important thing is reducing the stigma and letting students know where they can go if they need help," Cuozzo said. While the Fort Lee school district has always been progressive about these issues, the Stigma Free programs have continued raising the bar for other schools, and made students more comfortable discussing mental health openly. Fort Lee has made impressive movements to create school environments with faculty members prepared to address student mental health issues. By having counselors in every school building and teachers who are trained to handle anxiety, students are assured to have access to support outlets if needed. The district expects to have 150 staff members trained in mental health first-aid in the near future. Compared to other school districts in Bergen County, Fort Lee is ahead of the game in dealing with students' mental health. Cuozzo's own advice to other school districts across the nation in terms of battling mental illness: Make it a priority.