The flu and school
April 19, 2018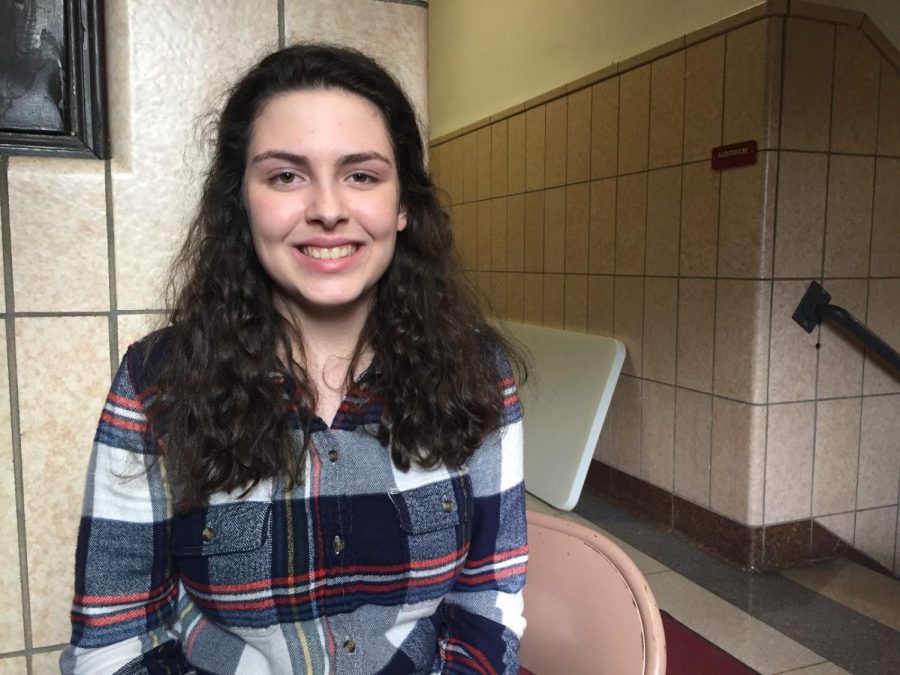 Photo Credit: Madelyn Willoughby
During period one, Sofia Nolfo and her classmates sit in room S234 and prepare for their chemistry class. The desks are pushed into close groups of four and science themed posters line the walls. However, the mood was dreary as many of the desks were empty and coughing filled the silence throughout the classroom. Although many students were out with the flu, some chose to stay in school to prevent the stress caused by absences.
Sofia Nolfo is one of the many students at the high school who have gotten sick this winter. The week of the high school musical, Legally Blonde, Nolfo developed a severe throat infection that she thought would prevent her from performing.
Throughout the flu season, Nolfo had been trying to prevent a major illness like the one she developed in the previous school year. However, Nolfo still developed a throat infection that kept her home for a week.
Nolfo feels that she takes the measures necessary to protect herself from sickness by resting and avoiding people she knows are sick.
"If I feel myself getting tired and worn out I have to take a couple of hours to calm down," Nolfo said.
In the previous school year, Nolfo had also gotten laryngitis and had to miss all of the high school musical shows despite the months she spent rehearsing. Nolfo loves to perform, and the illnesses were frustrating, but she knew she had to rest in order to be healthy again. These situations are not unique to Nolfo, she usually develops a cold that keeps her home from school three or four times a year.
As a young kid, Nolfo got the flu while the swine flu was going around, keeping her home for a week. She remembers having little motivation at the time because she was exhausted.
"When you're a kid you have so much energy, and then all of a sudden you're sick and you can't do anything," Nolfo said.
Like many students, Nolfo was feeling the pressure of a heavy workload in addition to her rehearsal schedule. "I was trying to do it all and I guess I just got worn out," Nolfo said. Most of the pressure to return to school came from herself, and the worry that she would have to miss the high school musical again. She thinks that the pressure felt by many students dramatically affects their physical health to the point where they get sick and need to miss school.
Nolfo also has concerns about student health in general, with all of the viruses spreading through Glen Rock and other schools in New Jersey. It was scary for Nolfo to hear about all of the deaths from the flu in the tri-state area because her immune system was vulnerable. She was concerned she would develop the flu on top of her throat infection, despite the measures she was taking to heal.
Fortunately, Nolfo did not develop the flu, and she believes it may be a result of the flu vaccine that she received this year. She believes vaccination is important because when one's immunity weakened, there is a higher chance of contracting the flu. While she knows that it is never a guarantee, she believes it is important to get the vaccine because the flu and other viruses can be unpredictable and taking an extra precaution might be helpful.
Academically, Nolfo had been keeping in touch with her teachers to receive some of the work she had missed but it was still difficult to catch up. Some of Nolfo's teachers tend to assign a large amount of work, and catching up became a tiring process. However, as the marking period progressed, Nolfo began to recover in some of her harder classes.
"I talked to teachers about taking tests and homework and projects and most of them have been really understanding," Nolfo said.
She feels that students need to take care of themselves first, and stay home if that is what they need. Students who are pushing themselves too hard will only make their illness worse, and it may result in even more lost time from school. Nolfo feels that most teachers are forgiving when it comes to missed work due to being sick, and it is important to contact them about it.
While Glen Rock has seen many cases of the flu, the issue has reached other parts of the tri-state area as well.