Stronger Than We Thought
April 19, 2018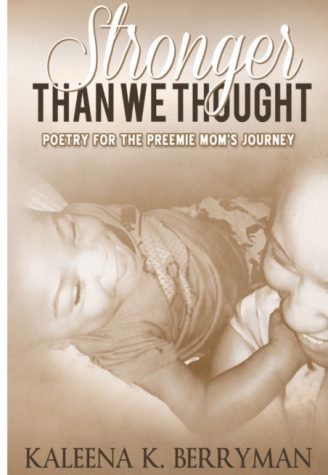 The process of getting the book completed was relatively quick and easy. She didn't take the conventional path of getting a publisher, and did everything herself. By doing this, she could focus on her work on her own time. Whenever she got inspiration, she would sit down and dedicate an hour to writing a poem.
After a few months of doing this, she had the collection of poems she wanted to publish. When she had her poems together, she shared them with her mother to get her thoughts on them.
The poem most personal to her is one called 'My Body Betrayed Me.' This poem sits close to her heart because in this poem, she said what every mother of a premature child feels, but wouldn't dare to say. Her biggest goal for the book was to vocalize what preemie parents are thinking, so others can understand what they go through.
Berryman then did some research about how to self-publish, and put her work on Amazon.
Kaleena's sister, Kandi Berryman, purchased the book when it came out. She is the first to admit that she was scared to read it, but "it's a great book! I'm glad she had an outlet to express her feelings, and something that she can spread across the world. She touched so many hearts with that book, you can tell from people's comments and reviews," Kandi said. Her favorite poem was 'Stronger Than We Thought,' because this poem assured Kandi that Kaleena was going to be ok.