Looking through the lens
April 19, 2017
It's 3 a.m. The sun has yet to rise and a young Ken Kerbs has yet to fall asleep.
Unlike the average 1970s high school student who came home from school, did his homework and went to sleep, Kenny Kerbs would finish his homework and go down to his darkroom, conveniently located in his basement. From the moment he was let out of school to the latest hours of the night, Ken was wide awake, developing pictures.
Ken found his passion for photography when he discovered a camera in his father's closet. After scavenging one day Ken discovered the heavy 35mm camera tucked away, almost ready to be forgotten.
Ken's father, Larry Kerbs, used the camera when he was in the army. Larry bought the camera for hobby purposes. It was a fun way to pass time with the other soldiers.
When Ken found the old camera, he was absolutely bewildered that his father hadn't told him about it sooner.
Shortly after finding the camera, Ken learned that there was a leak and that light streaks would run through the film, ruining any pictures taken.
Ken and Larry did just about everything they could to fix the camera but neither could restore it to it's full capability, leaving a young Ken distraught.
But not for long.
Seeing that Ken was interested in photography and so sad over the broken camera, Larry bought his son a new camera: a Minolta Hi-Matic. This was Ken's first real camera.
It was nothing special as far as photographic capabilities and physical appearances were concerned. It was a silver and black camera with a black strap and the brand name stamped on the top right. It looked like most cameras built in the 70s and it would be considered primitive by today's standards. But for Ken and Larry there was definitely enough sentimental value for both to remember the camera many years later.
From the moment Ken received his new camera he would take pictures of everything. Ken and his father even built a darkroom together so Ken could develop his photos with ease. Larry remembers building the darkroom as a great bonding activity with his son.
Back in the 70s Glen Rock used to be a junior-senior school that comprised grades 7 to 12.
When Ken entered eighth grade, he was still passionately taking pictures. His neighbor, Lee Gottesman, noticed that Ken was an avid photographer. Gottesman was a sports editor for The Glen Echo and asked Ken if he wanted to take pictures for the school newspaper. Ken agreed and officially joined The Glen Echo.
Ken's first assignment was to shoot some pictures of a soccer game. More often, though, Ken would be at the football games. He was given a special sidelines pass so he could snap pictures of each and every game.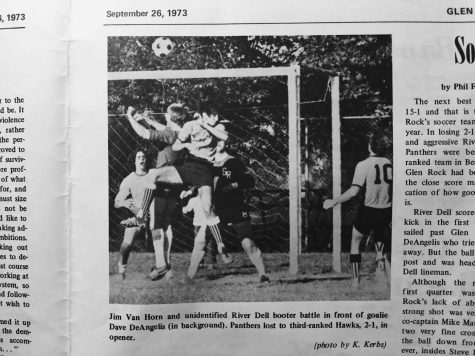 Ken fondly remembers how exciting it was to see his name next to the photos in the display cases next to the gym and in the newspaper.
"It was little things like that for me, being a photo nerd, were very rewarding," Ken said.
From that point on, Ken was known as the "kid who brought his camera to school everyday," and that reputation stuck.
In a way, photography was easy for Ken because he had a darkroom and he could take his pictures to the next level by developing them.
However, everything Ken knew about photography, he learned by himself.
By joining The Glen Echo, Ken gained more experience and knowledge about the subject he loved.
Students could (and still can) join The Glen Echo in two different ways: they can either join the club or take the journalism class. Students are allowed to write or take pictures for the newspaper no matter what way they join.
Ken only took the journalism class two times throughout his high school career, but he was more invested in The Glen Echo club.
His participation in the club gave Ken the experiences that made him realize he wanted to go into the field of journalism, more specifically photojournalism.
Ken remembers once when the adviser of the club, Mrs. Fernandez, took Ken's class to Columbia University. The trip was for high school newspaper editors and Ken remembers learning more about photojournalism.
Slowly but surely, Ken understood how words and pictures were important to telling the news and conveying a story.
In ninth grade, Ken was the photo editor for The Glen Echo.
Ken also helped out in the school's yearbook, The Glenconian. During his time working on the yearbook, Ken grew closer with the yearbook advisor and art teacher, Alan Sponzili. The late Sponzili knew that Ken was taking pictures for The Glen Echo and let him use some of his photos for the yearbook.
School wasn't the only place where Ken took photos professionally: he also had a freelance business on the side.
Created primarily for Glen Rock events, Ken's business would take pictures for the high school's theater productions. The families of the actors in the production would hire Ken to take pictures. Anyone watching the play could catch Ken in the front row snapping away.
Outside of school related functions, people would also hire Ken to take family portraits. Ken would come to their houses with an old beat-up suitcase full of lights and stands. He would assemble the lights and set up in front of their pianos or couches and snap away.
"
Anyone that remembers Ken Kerbs from high school will remember him having a camera around his neck."
— Diane Turek
Anyone who knew Ken knew him as "Mr. Cameraman."
Diane Turek, a former classmate of Ken's, remembers Ken as a creative person, always capturing and developing pictures and always passionate about taking photos. Diane, who joined The Glen Echo in her sophomore year, was the feature editor by the time she graduated.
Although Diane doesn't work in journalism like Ken, she does work in human resources which is another way of using her communication skills.
Diane and Ken have kept in touch throughout these years and recalls Ken prioritizing photography over a lot of other things because photography was his passion.
"Anyone that remembers Ken Kerbs from high school will remember him having a camera around his neck," Turek said.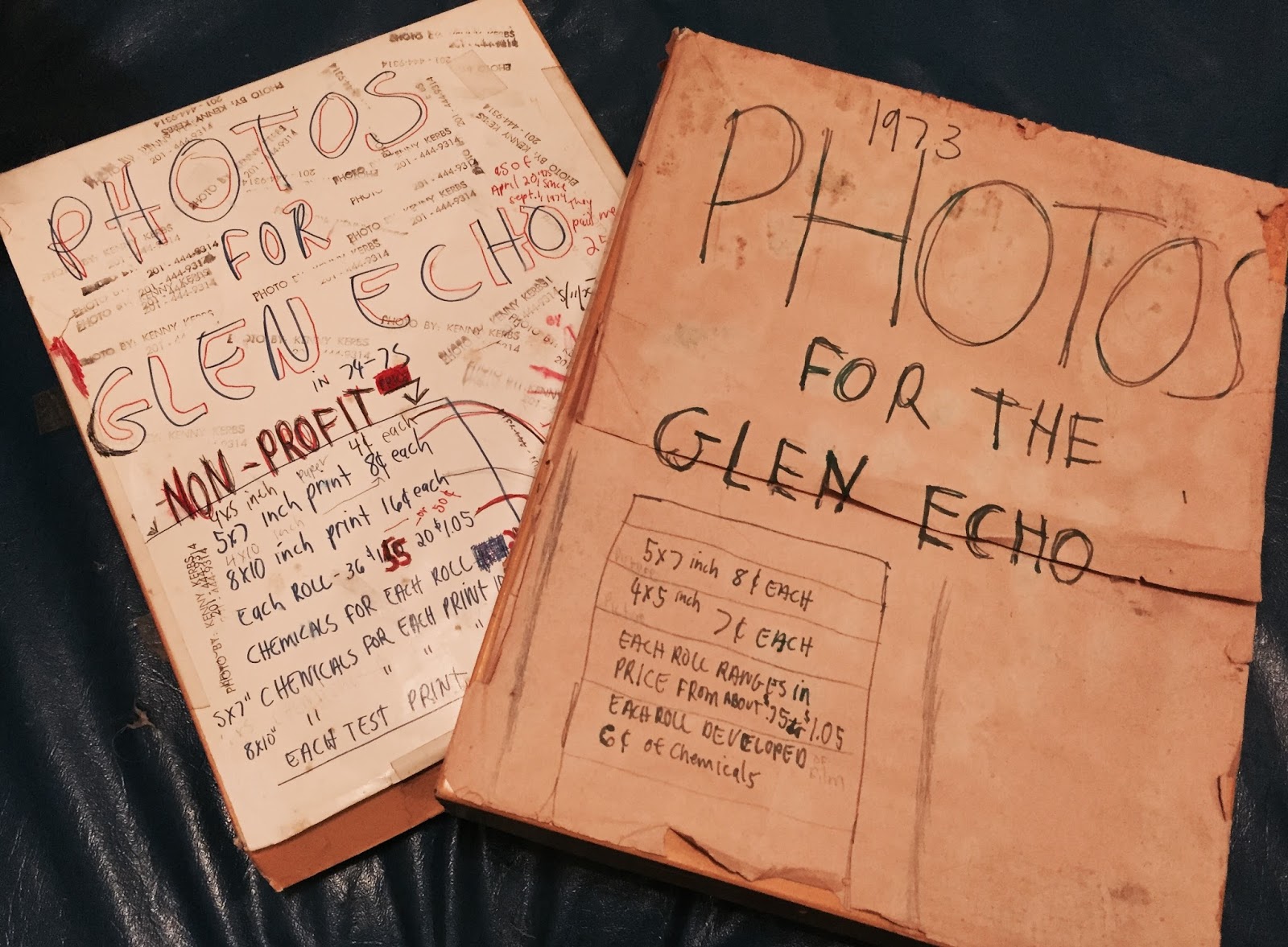 Photo Credit: Ken Kerbs
Into the ordinary
Syracuse: the fifth most populous city in the state of New York.
There's bound to be something to do and there'll always be exciting things to photograph.
So then why are a photography professor and one of his students in a boring computer lab when they could take much better photos at Erie Canal Museum or Rosamond Gifford Zoo?
David Sutherland is a professor at Syracuse University and has been for more than 30 years. Sutherland teaches various photography classes, like Multimedia Photography and Design and Military Visual Journalism.
Before he was a professor, he was a photographer for The Louisville Courier Journal and The Louisville Times, both in Kentucky.
Sutherland didn't know he wanted to become a photographer, when he started college he was a physics major who had never taken a picture in his life. He had never even touched or owned a professional camera.
As a physics major, Sutherland worked for one of his professors, doing research, and was given the task of capturing x-ray diffractions. That was the first time Sutherland used a camera. One day after he walked down to the darkroom and started developing the x-ray film he had taken, he thought to himself, "This is interesting. I think I'll take a photography class."
And that's what Sutherland did: he took a photography class which led him to take pictures for the school newspaper, which led him to become chief photographer, which led him to become co-editor for the newspaper for one year, which eventually landed him a job for a newspaper.
Sutherland started his career in Kentucky, getting his undergraduate degree at Western Kentucky University. After working as a photographer for the two Kentucky based newspapers, Sutherland decided to study teaching and become a professor.
Sutherland was employed at Syracuse University in 1972 and still teaches there today.
The most important aspect of Sutherland's teaching style is an activity he does with his students. At least once or twice, each of Sutherland's students go out with him to shoot pictures.
Where would a photography professor and his student go to take pictures? Erie Canal Museum? Rosamond Gifford Zoo? No.
David Sutherland brings his students to the most boring and ordinary setting he can find: a computer lab.
While it might be more fun to take pictures of beautiful art or cute animals, the most important part of journalism in Sutherland's eyes is making ordinary life more interesting to those who read the news.
In those relatively ordinary situations, Sutherland shows his students how to use artistic composition and lighting to great effect. He tells his students to look for body language and fine moments that make an ordinary situation interesting.
But taking his students to a computer lab is only one ordinary setting Sutherland would use.
The first computers came out in the 1970s and when Sutherland started teaching computer labs weren't as common as they are today. Instead, in the late 70s Sutherland brought his students to a small village outside of Syracuse.
Also during the late 70s, Sutherland met Ken Kerbs.
After graduating from Glen Rock, a college-bound Ken headed to New York to pursue photojournalism at Syracuse University. Sutherland taught a photojournalism class that Ken had taken during his undergraduate years.
Right off the bat, Sutherland's first impression of Ken was that he was a serious photography student. Sutherland had no real way of knowing that Ken was "Mr. Cameraman" back in high school, but it was evident that Ken was dedicated to becoming a good photographer because of the type of student he was.
In a small classroom of about 12 people with the most distinguishing feature being a giant slide projector, Ken was one of the top three students and, in that particular class, the kids were good at what they did.
Ken was different than the type of students Sutherland usually liked teaching. Sutherland liked teaching kids who came into his class with little to no photography skill at all and leaving his class with semi-professional skills. For Sutherland, it was rewarding to see his students grow and improve their skills.
Sutherland recalled Ken as one of the few students in the program who was exceptionally good at photography beacuse he already had a deep passion for photography.
Ken was also different from the other students because after all these years, Sutherland still remembers Ken, whereas other students have faded from his memory after 30 years.
After graduating from college, Ken continued to keep contact with Sutherland and their friendship only developed from there. Ken left Syracuse and currently lives in New York City, working for CBS. Sutherland visits the city for board meetings and on many occasions will meet up with Ken.
Photo Credit: Ken Kerbs
The life of a cameraman
It's 3 a.m. again.
Ken Kerbs is in Fort Lauderdale, a popular city in Florida known for its beaches, but he's not there for vacation.
A couple of hours prior on Jan. 6. 2017, a man walked into the Fort Lauderdale-Hollywood International Airport with a Walther PPS 9mm semi-automatic pistol.
The man, Esteban Santiago-Ruiz, opened fire in the baggage claim area of Terminal 2. Hundreds of people just waiting to grab their luggages, suddenly had to run for their lives.
Panic spread to the rest of the terminals and law enforcement officers got to the scene as fast as they could, but in 80 seconds everything was over.
Ken Kerbs went to work at 8 a.m. At 11:30 a.m Ken is told to get on a plane to Florida and cover the shooting.
The trip to Florida is a long one. Ken's flight gets delayed and he can't use the Fort Lauderdale Airport because of the shooting. Instead, Ken arrives at an airport in Miami and has to rent a car all the way to Fort Lauderdale.
Ken finally meets up with the reporter he'll be working with for this story. The whole trip takes around nine hours and when Ken and the reporter set up to start filming it's midnight. The night sky is dark outside but the lights of the airport and runway are shining brightly.
Ken and the reporter stay a couple days after the shooting to interview doctors and employees all helping out. With them are reporters and videographers from 50 other stations all from different parts of the country.
After getting all the footage and interviews needed, Ken goes back home to New York only to start working on another story.
"You're operating on little sleep, and you have a lot of deadlines," Ken said. "That's the life of a cameraman."
As a videographer, Ken gets to be where the action is. He travels to places, in and out of the country, that an everyday person wouldn't get to go to.
"
He always had a positive attitude, he always had a solution in his back pocket if we got ourselves into some kind of jam."
— Brian Wengrofsky
Eight years ago, while he was working for CBS, Ken took a 6 month leave to work for a German TV channel called N-TV. A financial journalist, Markus Koch, came up with a creative project and called it "70 Days Around the World with Markus Koch." Koch was the executive producer of the show and had previously met Ken at the New York Stock Exchange.
"It was all about looking at emerging markets with an eye towards investment opportunities," Brian Wengrofsky said. Brian is a freelance cameraman who worked with Ken on the project.
Like Ken, Brian was interested in photography, specifically making movies. Ken and Brian had also worked together before while working on a story about the New York Stock Exchange.
Although the economic show was about investing, it was also a travel show. The viewers, Ken, and Brian got to immerse themselves in the cultures of other countries.
At one point, Ken and Brian were in Russia.
They were doing a story on Gazprom, a Russian oil company. They needed to drive up north, around the Arctic Circle in Western Siberia.
Wengrofsky remembers it being the coldest place he's ever been. He thought "who would ever want to live here," when he recalled the -12 degree weather. But when they got closer to their destination they passed by the city of Noyabrsk. In the city there was an ice playground full of incredible sculptures and spires. All throughout the playground children ran around, having the time of their lives.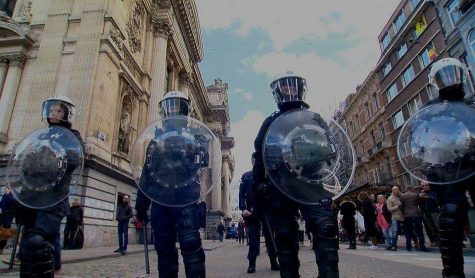 Seeing sights like this is what made all the travelling worth it for Brian. That and Ken serving as the backbone of the trip.
"He always had a positive attitude, he always had a solution in his back pocket if we got ourselves into some kind of jam," Brian said.
Even Brian, who was a passionate cameraman himself, observed that Ken always had a camera around his neck. Even when Ken was recording audio and would carry a microphone and sound mixer on one arm he would have his camera on the other.
In every location they filmed, Ken and Brian would have at least a day off to go out and explore what the country had to offer.  In the 10 weeks, they got to travel to, Africa, China, India, Brazil, Vietnam, Mexico and Russia.
In Vietnam, Brian recalls tasting good food and meeting great people. The Vietnamese, according to Brian, are very resourceful. When they were filming a story about fish farms, they needed a tank so they could sink the camera below water. Ken and Brian's driver brought them to a little shop that sold different types of glass and metals. By the end of the afternoon, the people working in the shop had put everything together in time for the shoot.
Another story was on a oil rig off the coast of Brazil. Brian remembers that there was also good food, specifically beef. Ken and Brian also saw a coffee plantation. In Ghana, the two went to a gold mine and saw the workers pouring gold into bars.
The process to film the show was fairly quick. In each location the crew would stay for about a week.
"The German project was an absolute dream. To travel around the world in 10 weeks to eight countries and have a great crew to collaborate with was amazing," Ken said.
Both Ken and Brian agree that travelling to the different countries gave them a new perspective.
Brian learned of the small similarities between everyone, everywhere. Ken felt he had a better look at all the countries that had a much greater depth than reading a newspaper or watching a movie.
Ken travels at least 100 days a year. Whether it's hopping a flight to a different country on the other side of the world or driving nine hours to another state, Ken can do all this because he chose to pursue journalism.
If Ken hadn't gone into the field of journalism, he would've pursued biology and possibly become an environmentalist.
But Ken loved making images too much. He loves working on stories, learning from others and meeting new people.
Often times he goes into work not knowing what he'll be working on but for Ken that's the most exciting part of his job.
Ken finishes all of his assignments in little building blocks: one shot at a time. Looking through the lens, Ken tries to capture the moment and essence of the story as best as he can.
He couldn't imagine doing anything else.