Definition of family
April 4, 2017
The four-month window given for Adrian to write the book was a precise, forceful and profound period. Annie was three years old, and Ben was only a baby. With their father powering through the most intense four months of his life, their mother Amy stepped up, making sacrifices so Adrian could work towards accomplishing his dream.
"She had to really do everything around the house," Adrian said. "Just everything in our lives, especially with two young kids. It was just a lot of work to begin with, and I just wasn't available to do very much of anything."
The love story of Amy and Adrian began when they met at St. Bonaventure, both writing for the paper. The school, yet again, brought Adrian to meet another person that would soon change his life. The fact that they were both journalism majors was what brought them together.
Amy was only a freshman at the time, while Adrian was a sophomore working as the sports editor. As a result of working on the paper with Adrian, and spending a great deal of time with him, she soon discovered her future husband's dream career.
"He was a better writer than he was an editor and he'll tell you that," Amy said. "But after the sports editor job, he just basically started writing for the local newspaper in town and with the college, and so I knew that's what he wanted to do for a career."
Of course, Amy's hunch turned out to be very true.
After graduating, the pair got married, and Adrian began his adventure of working as a journalist. After years of marriage, making their move to Glen Rock and raising a family, Adrian began to undergo the process of writing The Miracle of St. Anthony.
"It was actually kind of a sacrifice from a family point of view," Amy said. "I knew it was such a great story that we totally supported him in that."
After the long period of support and love from Adrian's family, the 145,000 word book was finally published in 2005.
"He did a phenomenal job he, I mean you felt like you were kind of on the journey with him through the season," fan and basketball coach Carlo Santaniello said. "Being a sports enthusiast, every time I see the guy I'm in awe."
The glory and recognition followed Adrian after the publication, which made him appear like a celebrity to some people, yet not to all.
"There's certainly credibility that comes with publishing a book, but more importantly to me, I looked at myself differently," Adrian said. "I didn't know if I had the discipline, staying power, and maybe even the talent, to write a book."
Most importantly, his family was as proud as ever. Through the sacrifices made, and the understanding Amy had for the writing process, there was nothing but love and support.
"I'm very proud of watching him do it," she said. "What I've learned from his is that writing is such a process that it takes a lot of work and you just have to have a passion for storytelling and putting the truth out there."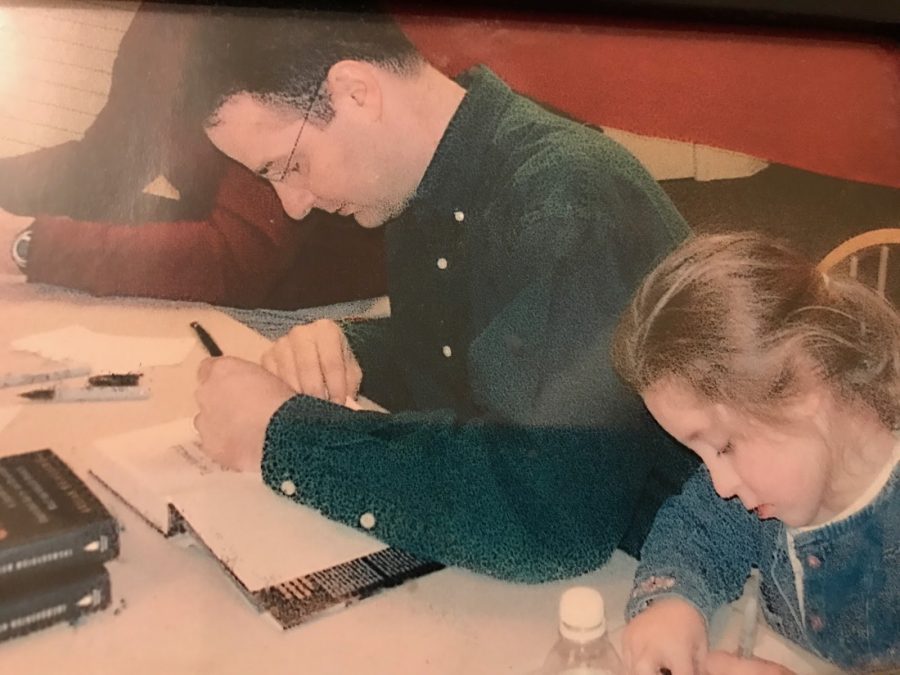 The process of composing the story certainly did propose it's challenges for the family as well as Adrian, but his writing in general has impacted the family in numerous ways.
"With his career it's like a part of me because it's also an identity of who I am, because people see me that way," Annie said. "That's a part of who I am because of who he is."