About Team Red, White and Blue
May 19, 2016
According to the National Institute of Mental Health, post-traumatic stress disorder is a mental disorder that causes feelings of fear and helplessness after one experiences a traumatic event, such as a war, death, or disaster. People with PTSD re-experience memories, show avoidance, have heightened arousal and reactivity, and display cognitive and mood symptoms. They often experience flashbacks, depression, nervousness, and unnecessary guilt.
Overseas, soldiers are accustomed to a structured, platoon lifestyle. They spend months on end with other soldiers, adhering to a distinct schedule to follow everyday. Being part of the military is like being part of a family — sometimes leaving that impromptu family and returning home leads to a jarring transition.
For Algor, who had searched for a way to acclimate himself to civilian life once again, the process is both frustrating and inspiring. He has gone through it himself. He knows the struggles that military men and women face. He takes the insight to Team Red, White and Blue.
To bridge the gap between the military family and the one stateside, the organizers arranged Team Red, White & Blue in a way that kept the "feeling and camaraderie" of the military unit.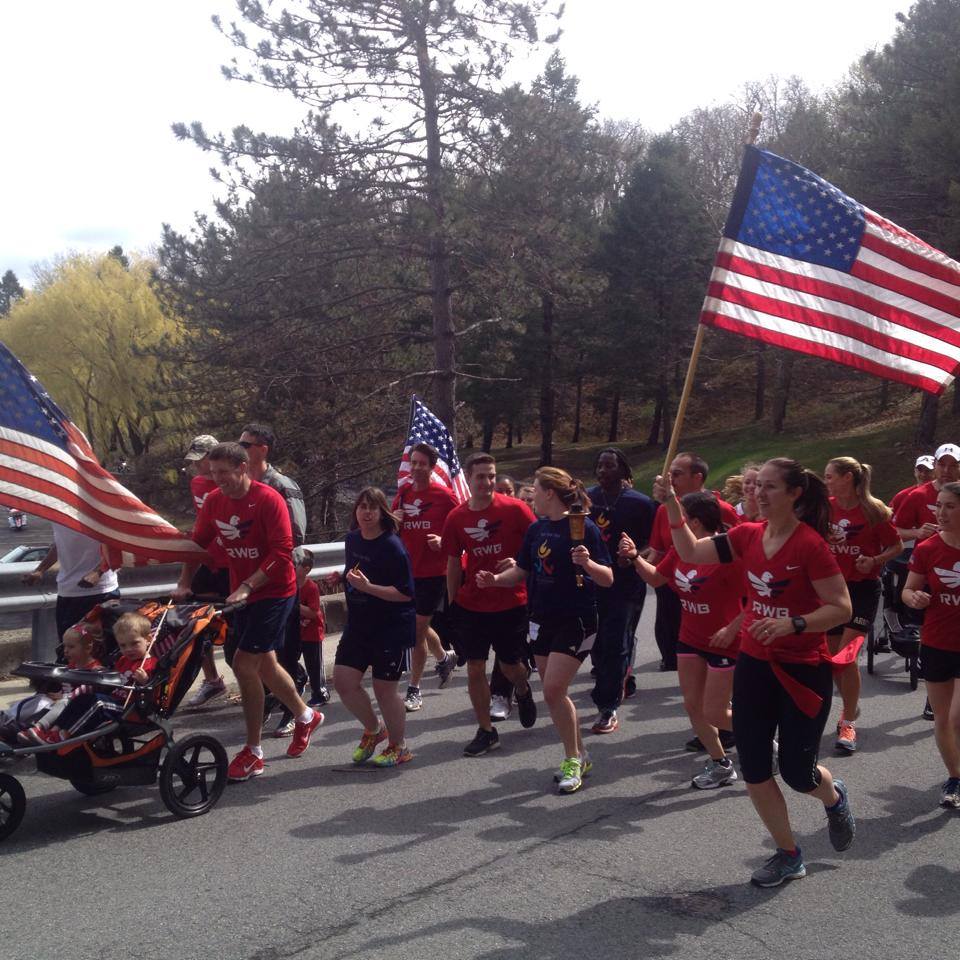 In 2009, after returning to grad school at Michigan University, Algor and his now brother-in-law, Mike Erwin, felt the lost sense of community. Outside West Point, there were almost no other veterans.
At this time, the war Iraq War was starting to slow down and soldiers were returning home with no place to go. The VA could not sustain the amount of veterans who were decommissioned.
Erwin saw this and tried to help by taking part in Wounded Warrior races, but he did not completely agree with the foundation's ideology. Wounded Warrior focuses on physically disabled veterans, but it doesn't specifically help with emotional wounds. Erwin wanted to work directly with the veterans he was helping, so, in 2010, he established Team Red, White & Blue.
Team Red, White & Blue is a nonprofit tax-exempt (501c3) organization whose goal is to ease veteran's transition from military life to civilian life through social and physical activities.
Volunteers around the globe participate in run groups, yoga classes, CrossFit workouts, and large-scale events (such as trail running camps, ultra-marathons, and baseball games). These events aim to bring back the community sense that the veterans lost. The returning soldiers bond with civilian volunteers and other veterans, making them feel like they are part of a community, like when they were overseas.
Team Red, White & Blue started out as a small organization that only raised money through modest donations. For example, people would wear a Team Red, White & Blue shirt and run in a 5K, asking people to sponsor them.
Now, huge events are sponsored by companies like Johnson & Johnson, Microsoft, and Nike. These sponsors donate checks of $50,000 in return for sponsoring an event.
Today, Team Red, White & Blue has over 185 chapters around the world, and still growing, and has assisted over 150,000 veterans.