The next step
April 29, 2016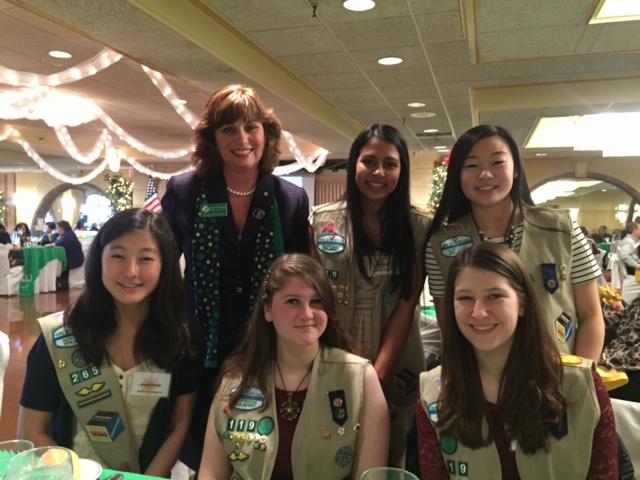 Photo Credit: Juliana Roddy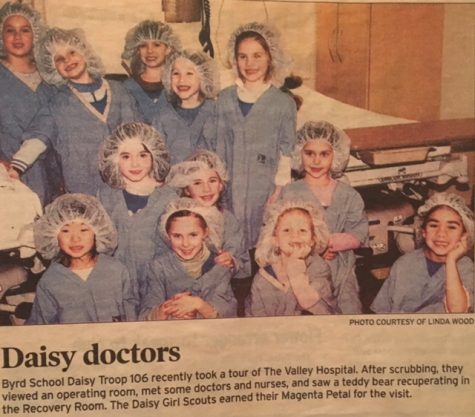 The warm June air fills the room and the sunlight seeps through the window.  After 13 years as a girl scout, Roddy prepares to transition to the next phase in her life.
The church hall is filled with family, friends, mentors and public officials.  At the front of the room, sit a row of high school senior girl scouts dressed in white.  Separating the audience from the girls is a bridge; the same bridge that they used to graduate from daisies to brownies, brownies to juniors and thus forth.
The Girl Scout Gold Award was introduced in 1980.  The goal of the project was to assist young girls achieve skills in four separate areas: skill development, leadership, career exploration and service.
Patricia Christie, the awards program manager at Paramus Service Center, has been involved with the Girl Scouts of Northern New Jersey for over 12 years.  Prior to that, she was a troop leader for her oldest daughter 28 years ago.  As the awards program manager, Christie is responsible for expediting the girls' award experience.  This includes training, guidance, mentoring and evaluating the final outcome.
"I believe in the benefit of a "girls-only" experience.  Girl Scouting is a place where girls can be themselves, explore new ideas and skills and take the lead," Christie said.  "Coming from an all-girl high school, I had a clear understanding of this concept."
The Girl Scout Gold Award recognizes leadership, effort and impact.  Only six percent of eligible girls nationally complete their gold awards, making it an extremely prestigious award.
At the GSNNJ council, the percent of girls who follow through with their awards is higher; 8.5 percent of eligible girls are awarded their gold award.
"It's a good percentage but anything less than 100% means there are girls who are missing out on a great opportunity to grow with the program," Christie said.
One of the major challenges in completing a Gold Award is time management.
"Juggling the time needed for the experience with all of a girl's other activities is tough.  It's been my experience that the girls who pursue this award are involved in many other activities," Christie said.  "They are the 'doers.'   Girls today are extremely busy and it can be a great challenge to fit everything in."
It is also essential that the girls take time to choose a community issue that truly matters to them.  Passion is the ultimate catalyst to any successful gold award.
"The projects that resonate with me the most are the ones where I can feel the passion the girl has for that community issue.  I have watched girls develop passions that I know will last them a lifetime.   The skills that girls develop working on a Gold Award will set the stage for not only personal success but that girl becomes a community member who knows how to take action to make the world a better place," Christie added.   "They are developing leadership skills, networking skills, and project management skills and will have a better understanding of who they are as a person and what they bring to the table to work with others and be a productive citizen."
When choosing a community issue to work with, many girls are inspired by other girl scouts and other projects that they have researched.  They can also be influenced by community tragedies or repetitive problems.
"For example, when we experienced hurricane Sandy, many girls turned their attention to issues that related to the disaster relief, preparedness and environmental issues that resulted," she said.
A major goal of Girl Scouts is to help a girl find her strength, confidence and character so that when she enters the real world, she is prepared to be herself and make a difference.
"If she has experienced our program, a girl will go out into the world with a 'toolkit' of skills that will aid her as she pursues higher education, a career and as a contributing community/family member," Christie said.  "She will have an understanding of the power that she possesses to take action in the world."
"Put time into discovering who you are and what truly matters to you.  The 'bumps in the road' are gifts.    You learn and grow so much more from them.   Don't give up when the challenges hit.  Take advantage of the support council offers and push past to the greatest reward, your own personal growth."
"This journey has taught me what it is like to lead a project from start to finish, work with others and truly understand the rewarding feeling of accomplishing a goal," Roddy said.
Juliana will be studying nursing at the University of Pennsylvania in the fall.