Girls' varsity teams are all about the pink
Continuing the annual tradition of wearing pink in October, the girls' varsity sports teams have been honoring Breast Cancer Awareness Month.
Mrs. Bonnie Zimmerman, coach of the girls' varsity tennis team, organized a fundraiser for students to buy pink camouflage t-shirts. A portion of the money was donated to a friend of Zimmerman's in town, with a specific type of breast cancer.
The girls' varsity cross country team, along with the varsity and junior varsity volleyball teams, participated in the t-shirt sale. The sales were open to the entire school and they sold 92 shirts, which raised over $800.
"We do something every year, some sort of pink, or awareness, but this was the first year that we kinda said, awareness is one thing, but you know results are another, and we really want to make sure that we raise some money, and people can be helped from it too, so awareness is good, action better," Zimmerman said.
For seven years, Mrs. Kathleen Walter, junior varsity volleyball coach, advised the Glen Rock High School Relay for Life team. 
"I know the American Cancer Society does a huge amount to help support breast cancer survivors, people going through it," Walter said. "They do stuff like buying wigs, and paying for women to have mastectomies, and for good treatment."
The varsity cheerleaders wear pink bows and use pink poms instead of their usual red and black ones in October. 
"I think our team does work to raise awareness. We always want to show our support to people who have been diagnosed, treated, overcome, or passed away of breast cancer, as well as those who are supporting them," Juliana Roddy, senior co-captain of the cheerleading team, said.
This Friday, Oct. 23rd, the students and staff to participate in the pink out and wear all their pink apparel to show their support.
View 1 Comment
Boys' varsity teams think pink this month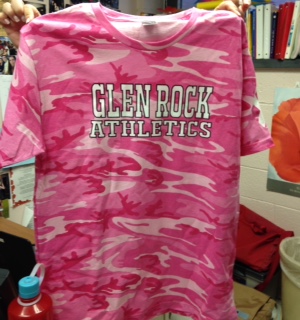 Photo Credit: Kate Casey
To keep up with the girls, the boys' varsity teams are now wearing pink all month to show their support of Breast Cancer Awareness Month.
Most students are indirectly affected by breast cancer in some way.  
"I don't know of any specific people, but we are just supporting the overall cause," Vincent Neubert, varsity football player, said. 
The goal of this month is to educate more people of the danger of this type of cancer and teach people how to catch symptoms early.
The football players are allowed to wear pink on their uniforms and plan to buy pink ribbon stickers to put on their helmets. The team can wear pink wristbands, leggings, socks, or any other accent accessory on their uniforms.
"We tell the guys that they can wear any sort of pink attire on their outfit," Mr. Michael Escalante, football coach, said. "A lot of them are wearing pink athletic tape, on their wrist or on their ankles, or they wear pink wristbands or arm bands or things like that."
The boys' varsity soccer team wears pink shoelaces and boys' cross-country team wears pink camouflage shirts.
Although the t-shirt fundraiser is new this year, football has been dressing pink for many years. Escalante has been coaching for Glen Rock since 2013, and this tradition has existed before he started. 
"Hopefully it will make people more aware and doing the pink united color front will help people become aware of how serious this issue is," Mrs. Stacie Gallo, cross country coach, said.
Leave a Comment