Sophomores have a fiesta
November 5, 2014
On Tuesday, Oct. 21, several sophomores sacrificed their free time after school to help make this year's "South of the Border Sophomores" hallway one to remember.
Some students painted the posters found on the walls, while others contributed by hanging up paper passports on each sophomore's locker. Smiles were contagious as idea after idea came spilling out to make the hallway the best that it could be.
"
I think that it's a good competitor to last year's sophomore hallway."
— Sita Patel, class adviser and Spanish teacher
Sita Patel, one of the sophomore class advisers and a Spanish teacher, was thrilled to see the energy of those helping with the hallway.
"We had a lot more free time to work on the hallway," she said. "There was a lot more time to plan. Students got more of their friends to help out. I'm very excited because of how hard the students worked."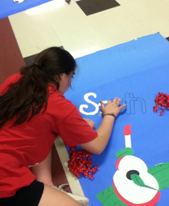 The sophomores were determined to improve from their 'Flintstone Freshman' hallway from last year. Despite their best efforts last year, the class of 2017 had very little time to work on the hallway. Much of their work was also soon destroyed by fellow students.
Yet this year's sophomore class has faith that its fiesta-themed sophomore hallway is better than its hallway in 2013.
"This year's hallway was very successful," Anne Nebbia, sophomore treasurer, said. "It just looks so much better than last year's freshman hallway."
Nebbia added that the success of the hallway was largely in part to the "helpful" students who constructed it.
The 2014 sophomore hallway had a lot to live up to, considering the class of 2016 had success last year with its "Super Mario Sophomore" theme.
The sophomore students this year were looking to give the Nintendo theme a run for its money. To many, they did just that.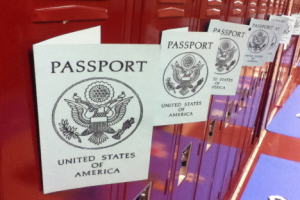 "I think that it's a good competitor to last year's sophomore hallway," Patel said.
Nebbia agreed, giving credit to both her class and its predecessors. "If it's not just as good, it's better," she said. "Last year's was really good."
When students came into school the next day, many admired the work of the sophomores. Whether it was building a cactus from boxes or dressing up the garbage cans with sombreros and mustaches, the sophomores seemed to have decorated the hallway from head to toe.
With so many effects to choose from, students had a tough time picking their favorite.
"My favorite part was the photo booth," Nebbia said, which was busy all day with students who wanted to have their picture taken alone or with friends as they put on a sombrero and mustache.
"I liked the passports on each person's locker," said Jack Cinquegrana, a sophomore. "I thought it was funny how they put a sombrero and mustache on each person's school picture."
To Patel, the best part wasn't any particular object but rather the work that the students put into the hallway. "I loved seeing the students' creativity come out," she said.