Press power to restart our computers
With growing pressure to improve the technology in school, The Glen Echo looks for answers.
April 4, 2014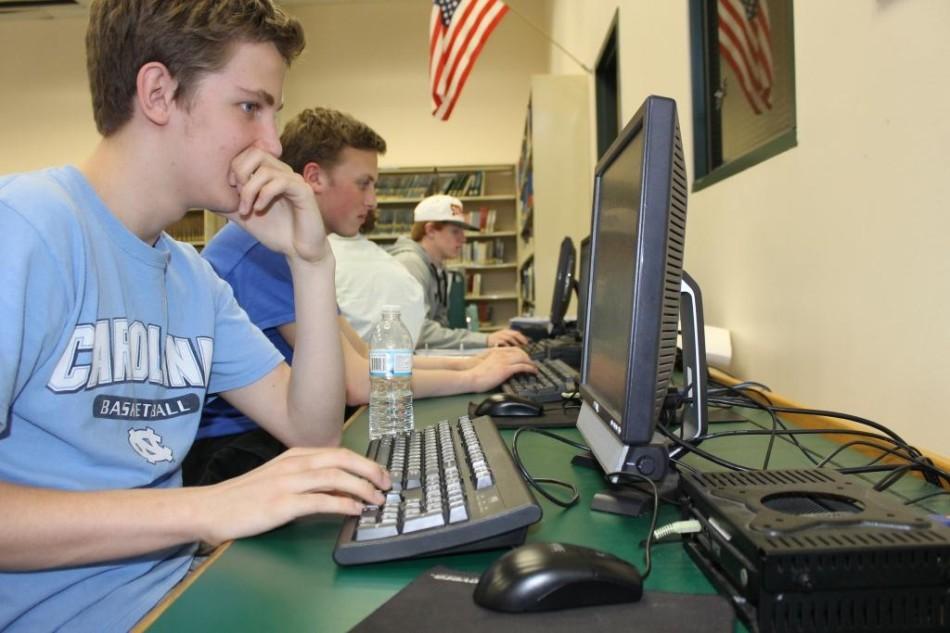 Photo Credit: Rebecca Jacobs
6:30 am.
Somewhere deep in sleep, a distant beeping noise can be heard. The subconscious brushes it off, forcing it to make sense logically in the context of what the mind's perceives as reality. The sound grows louder and louder until the conscious mind slowly emerges, refreshed, awakened – and mildly annoyed once it realizes that it's still dark outside.
Without a thought, the hand locates this mysterious sound's origin and hits snooze.
6:45 am.
The sound once again disrupts the peaceful morning. Groaning and groggy, the person's hand emerges from the covers once again, followed by an arm, a leg, a torso, and then a whole person. They grab their cell phone and shut off the alarm, acknowledging that they must unfortunately leave their dreams behind and face a new day in the real world.
The body stands up, phone in hand and unlocks a device that has become an integral part of their daily life. A phone, GPS, computer, camera, calculator, compass, and alarm clock all in one, the capabilities of this device are endless.
For now, the hand levitates over a blue icon. Tap. In an instant they are transported and connected to the daily lives of their friends.
A few moments are spent catching up on what they missed in the world.
"Norwegian ship reaches area of possible Malaysian plane debris." –CNN Breaking News
"U.S. Expanding Sanctions Against Russia Over Ukraine" –The New York Times
"Listen to 'Bob Dylan in the '80s: Volume One' tribute album in its entirety" –Rolling Stone
The small 140-character updates layered on top on one another. A few people collectively complained about a big test coming up, expressed their excitement for the weekend, or advertised to the sport fans to come support their upcoming big game.
In a single screen one could know exactly what her best friend or even what Pope Francis, who is almost 7,000 miles away, was doing with their day.
There is something oddly comforting about the notion of a generation connected, yet the capabilities of technology are intimidating. Natives of the Millennial Generation weren't born with a silver spoon in mouth, but rather an iPhone in hand. With so much access to the world around us, if one doesn't conform to the age of social media, it seems as if they really miss out.
Our society seems to have a fascination… no, obsession with technology. Dating back to the first time a caveman decided to sharpen a rock to hunt for food, civilization discovered the limitless applications that a technological advanced society had. Science marks the moment man discovered fire as a crucial moment for our survival as a species.
Why? Because it placed us at an advantage. Rocks turned to swords, swords to guns, and guns to drones. The country with the biggest most advanced army conquered all; the farmer with the tractor could out-plow the farmer with the horse every time. In a similar sense, the person with the latest iPhone was envied amongst all.
Great leaders throughout history recognized the importance of education and the importance of technology and knew that success was dependent on the union of the two. Our youth must know the implications of how to function in the real world first before they can begin to contribute new things to society.
In 1986, technology, as we have come to know it today entered the educational system in the forms of personalized computers. At the time, only a small percentage of schools in America had access to these tools.
But by 2008, the Internet had far surpassed the expectations of what it was capable. Students and teachers alike had access to a plethora of information within seconds. Google became a household name, "google-ing" just as common a verb as running or jumping. Graphic programs, TV input, voice recognition became typical computer functions, and the computer became more than just a word processor. In 2009, the average student to computer ratio was 5.3 to 1.
Yet, it seems at Glen Rock High School that we have found ourselves at an impasse.
It seems that not a day goes by when one cannot walk through the halls without hearing complaints come from both students and teachers.
"Why is my laptop so slow?"
"Can someone please figure out why the projector isn't turning on?"
"I have no service, how am I supposed to look up my assignment now?"
All are common phrases heard in almost daily but none are as common as this one:"Why can't we have technology that actually works?"
Where we stand
Currently at Glen Rock High School, we have about 500 devices needed to accommodate approximately 829 students, teachers and faculty, which is about a 1.658 to 1 person to device ratio. (This number has not been adjusted to include the fact that we share the media center with the Middle school which has an additional population of 577 students.)
This is a very good ratio, nearly 5 times better than the national average. With numbers like this, it makes someone wonder why there is still such a prevalent technology issue that both students and teachers consistently address.
Mr. Rich Santos, the Assistant Network Administrator and engineer, speculated as to what may be the cause of this commotion.
"With the way technology is constantly evolving it is hard not to feel like we could be doing more," Santos said to The Glen Echo.
There is a lot that our school is doing that is excellent.Glen Rock High School is a competitive school, with a ranking and graduation rate that reflects its success. Teachers have laptops to keep up to date on their work, and the software on these laptops is updated every summer. School Fusion and online grade books have become everyday components of students' lives to further connect the home and school and keep parents up to date as well with what is going on in the classroom. For every hardcover textbook there is a code to access a paperless online version given at the beginning of each school year. Some teachers have even become lenient with allowing a BYOD (Bring Your Own Device) initiative to enter their classroom, used for teaching purposes.
In addition, anytime a teacher requests new technology their requests are typically granted. The teacher will make the request through the principal, which is then sent to the Director of C&I for review, recommendation, funding, and action. Glen Rock Education Foundation (GREF) teacher-submitted grant applications have also recently made their way back and are another pathway for teachers to request for technology.
"Anytime we've been interested, we've gotten positive feedback," said Kara Grady, a math teacher.
There are still ways to improve our technology.
Although the teachers are provided my personal computers, their laptops are almost seven years old. Nevertheless, they are updated every summer with the latest software. This would normally be a good thing, but these laptops cannot physically handle anymore updates and slow down. It's almost like putting the engine of a brand new sports car into a 1909 Model T. Eventually, the car gets so old its tires give out, the muffler stops working, the sparkplugs don't ignite, and other problems arise.
Smart Boards have slowly become outdated, as well.  Back in 2007, when the current seniors were graduating elementary school and entering middle school, it seemed as if every classroom had a Smart Board. What may have been a popular fad at the time, used to take notes or annotate along side worksheets for the whole class to see, is decreasingly used. Most teachers opt to write their notes on the board, and, if the Smart Board is ever used, it has just become a fancy looking projector screen.
The TVs that can be found in the school's major lobbies (and at one time in the Senior Lounge) project a slideshow with pictures of students playing sports, volunteering, strutting down the runway in the fashion show, or cheering on their classmates at the Pep-Rally. When new pictures are uploaded, this is a really meaningful idea. Students feel a sense of pride seeing their faces around the school, and it enhances the small town, close-knit community that we Glen Rockians are so fond of.
However, students who travel to other schools see what our neighboring schools like Paramus, Pascack Hills, Pascack Valley, Northern Highlands, and even Ramapo are up to.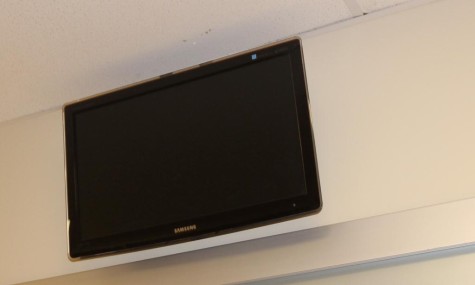 In almost all these schools, students carry around a laptop as part of a 1:1 initiative, or use their cell phones as an active tool in their learning. Many of these schools also have TVs that project fun slideshows of the students, but they do more. The TV in the cafeteria at Northern Highlands may showcase that day's announcements. Besides the pledge of allegiance, there are almost no audible announcements made in the morning at these schools, eating up educational time.
Yet Glen Rock continues to spends 5 minutes every morning reading a daily laundry list of announcements over the loud-speaker, cutting into teachers' time or, most often, being ignored by the student body.
Perhaps the single-most irking deficiency students' complain about is the fact that they do not have access to a Wi-Fi network.
Think back to that magic ratio of 1.658 to 1—the number of students/faculty/staff in the high school to devices. This is an awesome ratio to have on its own and assuming that every student have access to these devices. A large portions of these devices are teacher laptops, which for obvious reasons are off limits. The other large portion are the classroom laptops which students cannot use during class time unless the teacher allows otherwise, and if the class does need to use the laptops, often there aren't enough in the classroom for everyone and take additional time to power on and off.
So, the majority of our devices can be found in the media center. However, unless a teacher has scheduled time for the class to use the media center, or that student has option or lunch, they cannot leave class, walk to the media center, and do their work on the computer there. In addition, many times the media center is closed and students cannot use any of the computers, due to: HSA meetings, middle school classes, high school classes, debates and various presentations that utilize the media center space.
"Other schools give laptops to their students and have computers and laptops available at hand, but at Glen Rock, there are times when no computers are free in the media center, and the laptops at school aren't really easy to get access to. There's also the issue of nonexistent Wi-Fi at school," said Esther Kim, a senior at Glen Rock.
So some may wonder, why don't the students bring in their own laptops if the school employs a BYOD policy?
There is no Wi-Fi is the simple answer. A student who has an athletic practice after school, then followed by a Student Council meeting, may not be getting home until 8 pm at night, s/he may like to finish up the essay during the rest of their lunch period. But if the media center is closed, as it is frequently, and they brought in their laptop they can access word processing but not much else. No Google, no Facts on File, no EasyBib, no CNN, Fox News, New York Times, no internet, no world.
"
We get to take notes quickly and efficiently. Teachers can share links and other applications with us immediately, utilizing a lot of recent technology."
— Eunice Pak, Pascack Hills ('14)
Back in February, CNN featured the Pascack Valley Regional High School District in an article about online classrooms as a way for students to stay connected and not miss school even if there is bad weather. Pascack Hills and Pascack Valley were one of the first schools to implement the 1:1 eLearning Initiative by providing every student with a MacBook laptop and a two-year renewal update back in 2004, and students seem to love it.
Eunice Pak, a Pascack Hills senior, shared her thoughts about the technology in their school.
"We get to take notes quickly and efficiently. Teachers can share links and other applications with us immediately, utilizing a lot of recent technology," said Pak, this technology allowing them to log on at home and see what their teachers shared with them in case of a snow day, including not only homework assignments posted, but also actual lectures by the teachers, too.
"We can make presentations right away, and laptops are extremely useful in art/tech classes such as photography and web design. Students can also submit essays and papers and use our email quickly. There is a Wi-Fi network on campus, and students can connect to any other Wi-Fis off campus," Pak said.
Schools like Pascack Hills and Pascack Valley also allow for cell phones when used for educational purposes such as using PollMe. In addition, both school's principal, as well as other clubs, use social media outlets such as Twitter to update students on what is going on in the school.
At Nutley High School, social media is taken one step further, and it is not uncommon for students to "tweet" at their teachers to make their homework assignments more fun.
"We used Twitter as a form of communication during the Presidential State of the Union in order to tie in what we were learning in AP Government," said Kayla Dowling, a senior at Nutley.
A tool for learning
9 am.
Somewhere on Wall Street, an ambitious intern makes his way to the top floor of his building.
As he sits down and logs onto his desktop and, within seconds, he is connected with every stockbroker in the world, buying and trading, analyzing and determining what's hot and what's not.
A chime sounds and an icon pops to the bottom of his screen. His boss, who is on a trip in Japan, is trying to contact him. He clicks on the notification and the two discuss business plans face- to-face even while 6,572 miles and several time zones apart.
12 pm.
At noon he breaks for lunch, but returns a bit early to prepare for his meeting. He grabs his laptop before forgetting that his PowerPoint was saved on the wrong computer. Remembering the cloud capabilities of his computer, he is relieved to know that he won't be late transferring his hard work.
A smart board in the conference room allows him to set his heavy laptop down while he moves between slides, illustrating his ideas, jotting down side notes on the slides all via the touch screen capabilities. His office used WebEx, which also allowed his boss to view his presentation even while not present at the meeting.
A colleague notices a slight error in his calculations on one slide, but reassures him that it's a quick fix as he pulls out his phone, accessing the calculator capabilities and re-crunches the numbers.
Technology is integrated in our daily lives so much that we'd have to pretend that, for 7 hours a day, it doesn't exist – at least not in school. Yet when used correctly technology can enhance learning and give real world experience.
In fact, it is hard to find a person in the educational system who would disagree with this. In Glen Rock, everyone from students to parents, teachers to administrators have voiced their opinions on technology in school.
"
I would like us to examine on-line learning, social media, and the use of smartphones and other devices for student learning as some examples of what we are not currently doing."
— Principal John Arlotta
One person who has been very vocal in getting Glen Rock to shift towards more technology use in the classroom has been high school principal John Arlotta. Before coming to Glen Rock, he was a math teacher at Rutherford; the two different roles in education have provided him with a unique perspective into how technology can be used.
"I see technology as an integral tool in the instructional process," Arlotta said.
"As a former math teacher, I have always embraced technology. While a teacher in Rutherford, I actually wrote a handbook for teachers to show them where software, such as Sketchpad could be used in the teaching of Geometry.  I also was featured on New Jersey Network showing how the graphing calculator can be a good tool for inquiry," Arlotta said.
"Realistically, we do some nice things.  I am happy that we were able to invoke students' access to teacher's grade books and enhance learning through School Fusion these past few years, but I still would like us to progress further.  I would like us to examine on-line learning, social media, and the use of smartphones and other devices for student learning as some examples of what we are not currently doing."
Many people echo the same opinions as Mr. Arlotta.
Many students agree that they use technology on a daily basis outside of school, whether it is checking their cell-phones, using the GPS in their car, listening to music, or accessing information on their computers.
But for all of the technology used outside of the classroom, it is rarely used within the school.
"Technology has never really been a part of any class I've been in, unless the class was web design or it was for a presentation, project, or lab. The first time I used a laptop during class was this year to follow along with the PowerPoint that our teacher was teaching from," said Esther Kim ('14).
Students concur that technology would be the most beneficial in science classes and, occasionally, history courses where video clips could enhance the learning experience.
"
I think it really depends on the class. For my Algebra II class, it wouldn't make much of a difference."
— Dana Fanelli
However, in Math and English classes, students think it won't be as applicable.
Dana Fanelli, a math teacher, said, "I think it really depends on the class. For my Algebra II class, it wouldn't make much of a difference."
Other teachers, however, find it will enhance their teaching style.
"Students having laptops would allow them to individually see how they can use technology, especially internet access, to help them learn Spanish. They could, say, type in a phrase on Google and see if it comes up in other documents so they could see if that's how you would say something. Other recording equipment to practice speaking would be more available if kids could individually have computers in front of them," said Sita Patel, a Spanish teacher.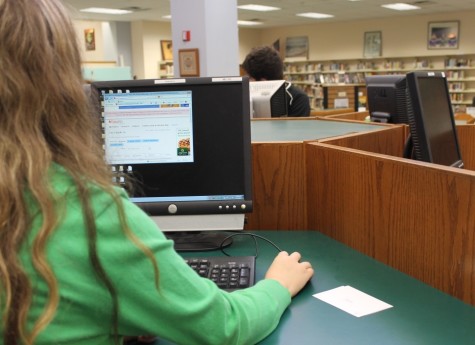 Alex Beilman ('14) agreed with these points.
"Technology is really beneficial in my Bio class, but in English, Psych, and Government we don't really use technology, as in computers, but here and there we do watch clips or videos of things pertaining to what we're learning," said Beilman.
Meghan Donohue, a junior at Glen Rock, spent her freshman year at Immaculate Heart Academy where the school issues its students laptops. "At IHA it worked really well, everyone was able to open documents that the teacher wanted," Donohue said. "I want to see Glen Rock open their eyes to technology."
Leaders in the district have even voiced their concerns.
When asked about the overall technology at Glen Rock High School, Dr. Paula Valenti, Superintendent of the Glen Rock Schools, said, "I believe that the Glen Rock Public Schools are equipped with the necessary technology tools to enrich curriculum and deliver instruction that is engaging and current, e.g. online textbooks. Overall, we are doing a good job, but we can do more to move our use of technology further enhance the 21st century instructional process and thereby student learning."
"
Technology is so integrated into or students' everyday lives that it would be artificial not to infuse technology into our everyday practice here in school."
— Principal John Arlotta
There are many advantages and disadvantages to technology in education, however, and it is important to understand both arguments before making drastic changes.
The advantages seem to be obvious: the ability to access more information faster, greener environmental footprint since laptops don't waste paper, providing teachers more mediums to keep their students attention and grasp better understanding of a subject.
In some cases, higher test scores have even been reported when technology is used properly. Key word properly.
"Technology is so integrated into or students' everyday lives that it would be artificial not to infuse technology into our everyday practice here in school.  That said, technology is not the be all and end all.  It needs to be used as a tool appropriately.  It is really important to start with student outcomes and learning and work backwards from there.  If technology can help arrives at this end, then by all means, embrace it," said Principal Arlotta, speaking in support of technology use in education.
However, we cannot ignore the downsides to technology.
"Sometimes technology can be used for its appeal but may not necessarily arrive at  greater student learning.  For example, one can look at a video and be entertained, but if it is not connected to curriculum, foster higher level thinking with connected questions and applications, and require student accountability, then it is not the best use of class time," said Arlotta, explaining how technology can sometimes be a downfall.
The key to getting the most out of technology is moderation, as with all things in life. Cake is delicious. A whole cake for dinner, not as delicious. The same is with technology.
When used appropriately technology can do wonders to enhance teaching. But there are always problems that can arise, safety being a big one. Allowing students to access Wi-Fi would require new firewalls and blocks to be placed on websites to ensure that students are using the web for academic purposes. In addition, allowing students to bring in their own laptop or having school issued ones could create risks of theft or damage.
"The obvious drawbacks of students playing games or being distracted during class is far outweighed by the potential gain of a quick, accessible method of learning," said Max Auerbach ('14), responding to the concerns of school-issued laptops.
Unfortunately a common theme running throughout the school is the fact that the constituents of Glen Rock High School can agree that our technology should move forward, but the infrastructure and costs involved pose severe roadblocks.
Jonathan Chia, a physics teacher, said, "I believe a lot of technology in the school is underutilized just because there's so many restrictions. Current technology is great, but we need to change the way we control technology in this school."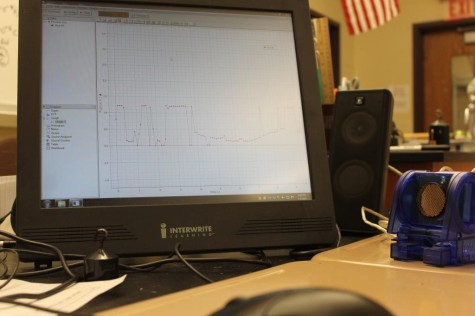 His colleague, Oren Levi, sided with Chia's view.
"I don't know if more technology is really the issue at the moment, but I think the bigger issue is technology that's up to date and functional," said Levi. "The technology itself I think is okay, I think maybe a little more access to it [would be useful]… the security precautions they take on these are a little excessive, [such as] the fact that there are certain things we can't just run, we'd have to go to Tech."
An example would be how students, as of publication, cannot connect to a school-based Wi-Fi system because of bandwidth access and control issues. In addition, the TVs at the school are incapable of being run by a single 'overlord' computer and, as a result, if one would like to update the slideshow that runs on them s/he must go to each TV individually and do so.
To modernize this, a complete (and very expensive) rewiring would have to occur.
Similarly, if Glen Rock were to move towards something like a 1:1 initiative, we would have to pay for every single laptop for over 700 students: an expensive endeavor.
A state of change
There is hope for change however. As of next year the High School Proficiency Assessment (affectionately referred to as the HSPA), will be replaced by an entirely online exam known as Partnership for Assessment of Readiness for College and Careers, or the PARCC. The exam will focus on Mathematics and English Language Arts/Literacy for students in grades K-12. These exams are set to be administered based on the new Common Core State Standards that serve as guidelines for student preparedness for college and careers.
The PARCC exam also has criteria for the technology that should be used to administer this test.
The following was taken from their website:
Recommended Guidelines for New Hardware Purchases
Minimum guidelines for new hardware purchases include the following:
Hardware
1 Ghz or faster processor
1 GB RAM or greater memory
9.7 inch (10 inch class) or larger screen size
1024 x 768 or better screen resolution
Operating System
Windows 7
Windows 8
Windows 8.1
Chrome OS (Chromebook)
Apple iOS 6 or 7
Mac 10.7, 10.8 and 10.9
Networking
Wired or wireless internet connection
Device Type
Desktops, laptops, netbooks, thin clients, and tablets that meet the hardware, operating system and networking specifications
In addition, a sufficient amount of bandwidth (the amount that can be uploaded and downloaded) is required.
"
The Director of Guidance and IT Department [is] working in collaboration with the Director of C&I to ensure we have the equipment, bandwidth, and tools to properly implement the PARCC assessments."
— Dr. Paula Valenti, Superintendent of Schools
With these new requirements comes talk about the technology in our school. The Board of Education tends to allocate funds on a year-to-year basis based on the needs of the school. For the coming school year, additional spending was needed in the field of technology in order for the PARCC assessments to be a success.
Dr. Valenti assured The Glen Echo that Glen Rock High School, come PARCC time, would be fully prepared.
"The Director of Guidance and IT Department [is] working in collaboration with the Director of C&I to ensure we have the equipment, bandwidth, and tools to properly implement the PARCC assessments. We are involved with a PARCC pilot assessment at the Elementary and Middle/High School levels this school year," Dr. Valenti said.
With the technology conversation dominating the scene, this is the perfect opportunity to examine other areas that our technology could be improved upon and adjust accordingly.
The Student Council, as well as The Glen Echo, has started a call to action, fostering support for the school to implement a Wi-Fi network accessible to students and a Twitter account for The Glen Echo – a component that would complement the news website founded last year by the student newspaper advisor and journalism teacher, Jason Toncic.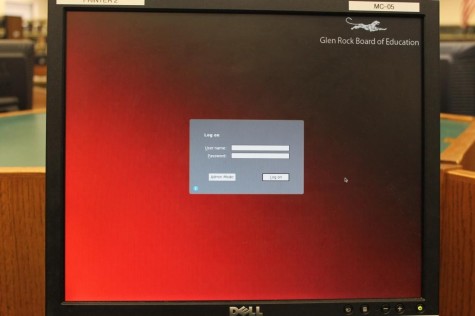 The student council has meeting regularly with their advisors and the technology department to find the best way to go about advocating for a Wi-Fi system. They recently started a petition in hopes that they could prove that many students and teachers are on board with this proposal.
"We are hoping that with school-wide student-accessible Wi-Fi we the students can make a more efficient and productive use of our time in the classroom and during free periods," said Melissa Rosen, Student Council Treasurer.
The support for a Wi-Fi system has been widespread.
"Our teachers want more, and I think most of our parents do too.  Our community expects the best and we certainly feel the obligation to deliver," said Arlotta, addressing the pressure to keep up with the demands of a high-tech society.
The Board of Education has also been feeling the pressure.
Dr. Valenti said, "The pressure for implementing new technologies comes from many avenues; the Board of Education is interested to see Glen Rock provide the best education for its students. They celebrate the achievements and look for ways to support initiatives that will improve learning for students; technology is one area of interest."
But the majority of the pressure has come from the students.
"Technology in our school is near non-existent. Media arts is my only class where I consistently use a computer to get work done. There's no Wi-Fi for any devices other than the school laptops and those are so terrible that they are essentially only used for text documents and PowerPoint presentations with minimal animation," Auerbach said. "If I need to get a document off of my teacher's fusion page for their class and a computer or laptop isn't accessible, my phone has no network to connect to and no service, due to the school's foundation and material, so I'm rendered unprepared when it should be incredibly easy to solve such an issue."
Such frustrations are echoed by other students, as well, including seniors who likely will not benefit personally from technological improvements in the school.
"We'd be able to use our phones efficiently during option or lunch to look things up. Last year, I looked up Trig derivatives during option to do my homework, but the page wouldn't load," Kim said. "While I understand the issues with having Wi-Fi in the school, I think that having it would benefit the students academically. Wi-Fi can add to our academic experience, but since we don't have it, the problems with having it must be significant. If I was being honest, though, I don't think they're significant enough to justify the lack of Wi-Fi accessibility."
"The computers are really slow and I can't surf the web via mobile device because there's bad Wi-Fi. All students should have their own laptops for easier access and to be more productive," said Matt DeBonis, a senior.
The world we live in
5 pm.
The work day for many has come to a close but for the dedicated doctors and nurses of the ER, their work shift is only starting.
The first few hours went by slowly. The only patients that came in were worried parents with young babies spotting a rash after switching diaper brands, a few adventurous teenagers who had broken bones or strained muscles from sports injuries, nothing especially out of the ordinary.
8 pm.
The radio kept at the nurses' station started making noises. What started off in static soon became a defined voice. A nurse rushed over to respond, knowing that the radio was only to be used in severe emergency cases.
The nurse grabbed the doctor and explained what the paramedic has just told her. The doctor immediately suspected appendicitis and told the nurse to prep the operation room before the ambulance arrived. Knowing the patient's name, the doctor was able to search for his file, request his medical records and have them uploaded to his computer from a database and review his history. An allergy to a type of anesthesia caught his attention.
"Let's avoid that," the doctor said before requesting to find a safer alternative for the procedure.
Suddenly the ER doors burst open and the patient was wheeled in by a team of paramedics before a swarm of nurses, PAs, and doctors took over.
In O.R. #6, a giant machine sat with tons of shiny probes and needles, which only a doctor would understand. The patient was placed on the table under the intimidating contraption before the anesthesiologist administered the drugs and was disinfected. In a corner sat the doctor at a computer screen with a joystick plugged into the USB port. It looked as if the doctor were about to play a video game.
With a flip of a switch, the doctor was suddenly controlling the magnificent robot with extreme caution, care, and precision. The robot sliced and cut into the patient, probed and prodded, sewed and sutured until finally the infected organ was removed and the patient's vitals were stabilized.
The only traces of evidence that this life saving procedure had been performed were three small, quarter inch scars.
This is the world in which we live in today.
The common thread of our society which connects students, businessmen, doctors, and persons of virtually any walk of life or profession is our use of technology.
It is impossible to ignore at this point our reliance on technology in both our social and work lives. The point of school is to educate us and better prepare ourselves for the real world. Why for seven hours a day should we pretend that laptops, cell-phones and other forms of technology are not readily available for use?
The PARCC exam, replacement for the aged HSPA, has created an online exam that is meant to more accurately measure students' preparedness for college and beyond. Part of that is their ability to use a computer.
In a world that is constantly evolving and changing its ways, the possibilities for technology seem endless.
Glen Rock High School does a lot of incredible things for its students, and many people and news sources agree that Glen Rock is a model for many schools in the area with its academic prestige. Why shouldn't we also be at the very edge of cutting technology too and have other schools looking at us for inspiration?
But there are some big things planned for Glen Rock.
Dr. Valenti would love to see a completely remodeled Media Center, a television studio, and possibly a Broadcast journalism program. Mr. Arlotta hopes for online learning initiatives to be in place and long distance collaborations with other schools to expand our opportunities. And as for students, a 1:1 initiative has definitely entered the conversation and may possibly be in place within the next few years.
"I believe we are competitive," Principal Arlotta said. "But, personally, I would like us to be the leading edge… I would like us to venture into areas others will one day emulate."