Playing in clay
May 30, 2018
When it was first implemented in 2010, Barbra's studio was a smash hit among her children. Each day, Barbra and her kids were constantly glazing and playing with the professional clay and tools. Nearly eight years later, her studio's entertainment skills remain successful among her children, especially with her daughter Megan.
"When she first was done with the studio, she invited my brothers and I to come down and play with the clay. She basically allows me and my brothers and my family members to go in there whenever we want," Megan said. "I do make pottery in her studio. It's like if you were to take a class at another place, but in my own basement."
According to Megan, having Barbra's studio open at all times appears to have encouraged all three kids' fervor for art. Barbra even employs her daughter at times for assistance with large orders and parties. Her older son, Ian, is going to college for art, and younger son, Shane, expresses his interest in design through his projects on display throughout their house.
"I encourage my kids to be in the studio as much as possible. I think art is extremely important in anybody's life, no matter what type of art it is," Mulholland said. "I think it's really important to have that outlet away from the phones. Put some good music on and just be creative! It's amazing how you can get yourself so lost in just that freedom."
By seeing her mother's investments in art from a young age, Barbra's artistic influence on Megan has caused her to become interested in becoming an animator and entering the art field professionally.
"Since she made her own company, it inspires me to do really what I want to do in life, and not worry about where I'm going to end up," Megan said. "Her job inspires me to really do what I enjoy."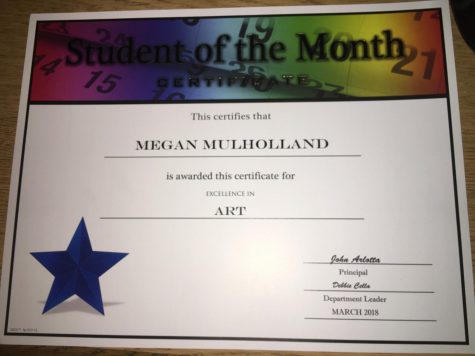 Reflecting on her investment's influence on both her children and the community alike, Barbra admits that getting creative is her favorite pastime. Her only regret is that she didn't start sooner.
"It's very rewarding and very fulfilling to be appreciated that way,  by something that you make with your hands," Mulholland said. "I enjoy making things for people, and I would've loved to have been sharing that a lot earlier, and teaching people- I love doing that."