Prematurity
May 21, 2018
Berryman ended up finding out later on that Jharid came early because her placenta got infected, and essentially kicked him out of the womb.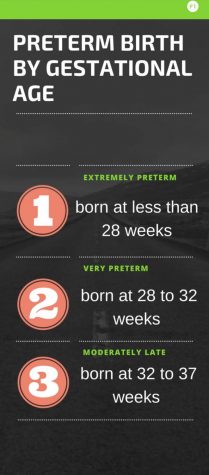 There are three subcategories regarding preterm birth, based on gestational age. Extremely preterm infants are born at less than 28 weeks, very preterm infants are born at 28 to 32 weeks, and moderately late infants are born at 32 to 37 weeks.
The glass. The clear barrier that never failed to remind her that something was wrong. The wall that kept her out and trapped him in. There were tubes and machines everywhere. In fact, the small space the room occupied was full of machines, all of which were attached to him. The machines kept his underdeveloped organs going. Minutes, hours, days pass and his frail body is still blocked by the glass. This room became a second home. Always going back and forth, tests, checkups, surgery.
Due to Jharid being born so early, he was extremely underdeveloped. All of his vital organs couldn't work on their own, and the machines in the NICU kept him alive. 
"They didn't even anticipate that Jharid was gonna live, the doctor told me if he lived it would be a miracle," Berryman said.
Jharid spent five months in the NICU, battling grade three brain bleeds, retinopathy of prematurity, chronic lung disease, a patent ductus arteriosus (PDA) and necrotizing enterocolitis. Most babies only have one or two premature health issues, but Jharid had all of them, which is rare.