Teachers react to Back-to-School Night
Your parents will be wandering the halls, sitting in your classrooms, and talking to your teachers at Back to School Night this Wednesday, instead of Thursday like it has been in past years.
Principal Arlotta said the date was moved to Wednesday in order to balance with Glen Rock's other schools, so parents with children in multiple schools can attend each Back to School Night.The middle school originally took the 28th so the high school took the 27th.  
Some teachers are impartial about the date change. Science teacher Brian Luckenbill said, "It doesn't really matter, either way it's staying late with school the next day. The biggest annoyance is coaching and fitting it all in."
Despite the inconvenience, he emphasized the necessity of Back to School Night. "It's important to have communication between parents and teachers, there's just never really going to be a good time to do it," Luckenbill said.
Like Luckenbill, other teachers recognize the importance of the night.  History teacher and parent to Glen Rock seniors Kathleen Walter said, "My kids only have so many experiences in school. I want to make sure their experiences in the classroom are gonna be good ones. So you want to make sure as a teacher that you're presenting that."
She also discussed her opinions of the night from her viewpoint as a teacher. She explained that many teachers use Wednesday night to plan lessons or grade papers, so losing that night would make teachers' schedules more hectic over the upcoming days.
"It's a long night," she said. "There's a difference between presenting to parents and presenting to kids. It's really stressful talking to parents, because they're demanding and they are kind of our bosses to a certain extent."
Some teachers are not in favor of the date change. Special Education teacher Stacie Gallo said, "I prefer Thursday because there's a [Cross Country] race on Wednesday. I will not get back to school until after 7:30 and first period is 7:30. There's gonna be no time to change or have dinner, so I'm not happy it's on a Wednesday."
Math teacher Katherine Buchar said, "I prefer Thursday. If I go to bed later on a Thursday night then I only have to get through Friday and that's just one day."
About the Contributor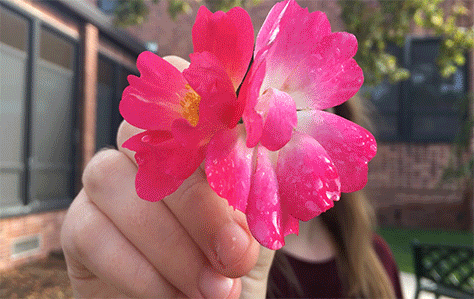 Rebecca Podd, Staff Writer
Rebecca Podd is a sophomore at Glen Rock High School. She plays volleyball and pole vaults. She has a dog named Trixie and a parakeet named Cheeky. She...