Redbubble stickers popping up everywhere
Redbubble stickers are decorating laptops by storm. A trend is emerging, as more and more students embellish their laptops in a collage-like fashion.
These high-quality stickers are to your laptop as "Emojis" are to your text messages: they get your point across in a colorful way. Straight out of Melbourne, Australia they are are an expression of personal flair, with hundreds of designs to choose from.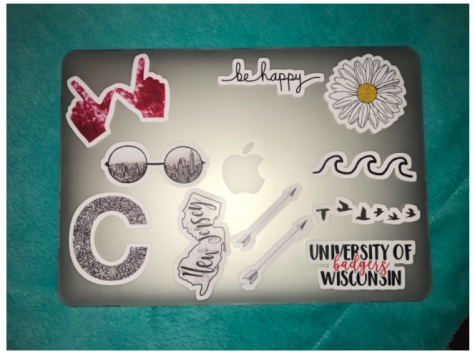 If you're hardcore, you won't even bother putting the stickers on a laptop case, but instead tattoo them right on. If you're not ready to make it permanent (or are just indecisive and know in a few days you will probably order more so you can switch them out) stick them on a case/cover or skin.
The front of your laptop can only fit so many stickers, so this spot is extremely prime real estate. It's popular to lay out the stickers collage style- fitting together as many as possible. Many people like to stick to a color scheme, while others cram on the craziest stickers they can, even layering them if need be. Sometimes less is more and only a select few quotes or designs are displayed.
When you run out of room, you might as well move to the inside. A glittery pineapple sticker next to your trackpad can get the creative juices flowing when you have an essay to work on.
Many designs are undoubtedly conversation pieces. Say you're sitting in a drab library, looking for a place to sit, and then a tie dye Vineyard Vines whale catches your eye. Obviously you sit down. Or perhaps you are experiencing writers block, so you scan the dull room for inspiration, when all of a sudden y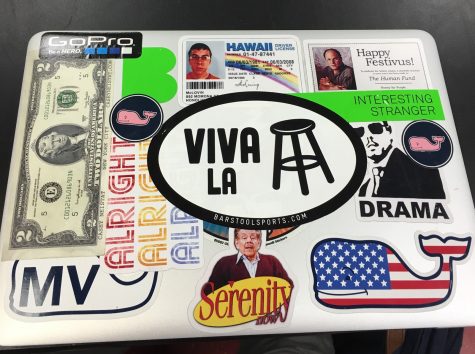 our eyes meet a sticker of a hipster cat wearing sunglasses and ideas immediately flood your brain.
While you may be envying that hipster cat, someone else is probably wishing they had your daisy sticker next to their "Chanel No. 1 (cares)" perfume bottle, so you trade. That is what the beginning of a beautiful friendship looks like.
The best part about decking out your laptop? $50 on Redbubble stickers would probably buy you enough to cover your laptop and a large dog, so splurge for two eye-catching looks.
If your dog for some reason take kindly to this trend, try prettifying a reusable water bottle or phone case instead.
Redbubble offers special deals on small stickers. Buy any four and they give you a 10% discount, or just go nuts and buy ten so you get them all marked down by 50%.