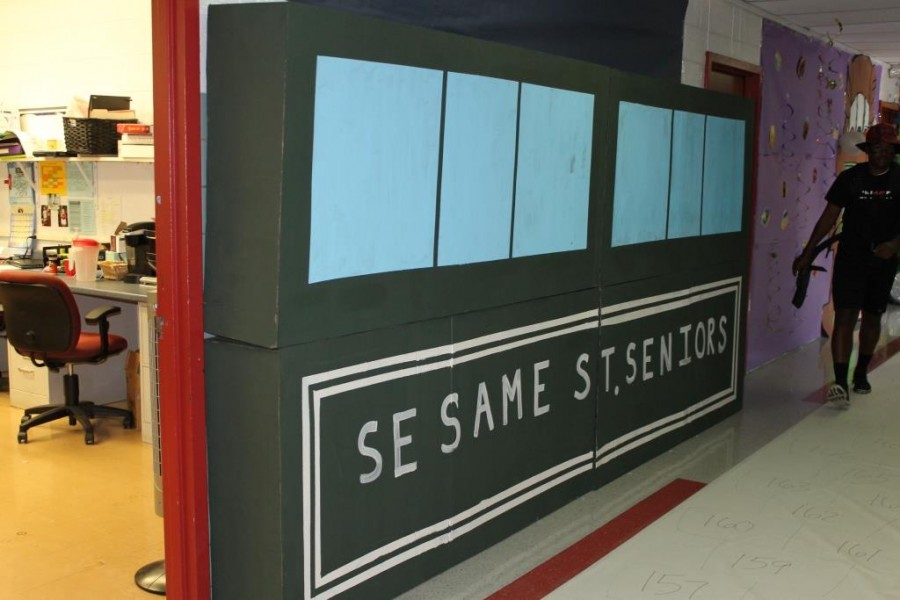 The Class of 2016, who once were the Fudgy Freshmen, will exit as the Sesame Street Seniors.
The hallway was decorated Thursday night until 10 p.m. Before the decorations began, the class advisers were optimistic about the turnout.  
"We think there will be a lot of seniors because it is their last time to get creative and help with the hallway," said Ms. Rochelle Forstot, one of the teacher advisers for the senior grade.
She was right. Many seniors came to decorate their last homecoming hallway.
Kaitlin Stansel, a senior class officer, was particularly proud of her class's "last one."  She said that there were "a lot of cool aspects" that were put into place.
In order for it all to work, though, the senior class relied on help from many of its members. If students could not come directly after school, they came at night (after sports or clubs) to help.
For Forstot, who has been the adviser for four years, the turnout met her expectations.
"People do what they can to help," Forstot said.
The hallway includes baby pictures of the seniors on the lockers, all the different Sesame Street characters, a 3-D display of the storefront, bubble machine and balloon arches and other artwork and displays. 
The theme this year is bittersweet according to the class officers and advisers.  
"It is definitely a happy theme," Forstot said. "Since the seniors are leaving high school, they can reflect on their childhood."