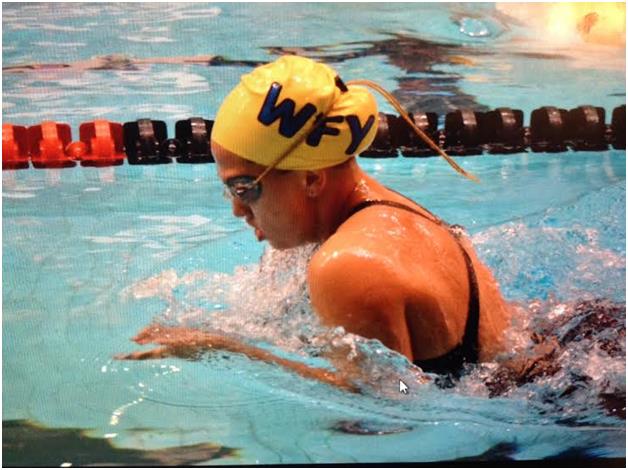 Sharon Sherman
It is spring 2013, and the weather is hot and steamy in Indianapolis. Cheering accentuates the atmosphere as many girls and boys dive into the pool and break the surface of the water.
It is Bridget Horton's turn to swim next. Her long, dirty-blonde hair is swept back and crammed into a tight swim cap, and she is wearing her trademark bathing suit, LZR, which is a knee-length suit that will help her glide through the water more easily.
Her family, teammates and friends are ready to cheer her on from outside the pool. Bridget is nervous to compete in one of the biggest races of the year, but she is also very excited to do what she loves best. She will be swimming in her favorite race, the 200 Individual Medley, which includes all four competitive strokes: freestyle, breaststroke, backstroke and butterfly.
After what seems like forever, the starter's gun finally sounds with a loud bang. The competitors dive into the water and are off to the races. The crowd is going wild, cheering for all their teammates, friends and relatives. Bridget's fans are anxious for the race to finish.
The first thing Bridget does when she gets out of the pool is run over to her coaches, Ken Berk and Francesco Peta, to see what time she received and how she placed. Horton learns that her time was a personal best, two minutes and nine seconds She is extremely excited though still anxious to know how her overall rank compared to the other female swimmers in the country.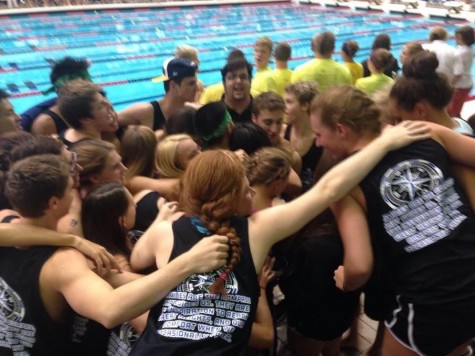 Being 14 years old at the time, it was quite intimidating for Bridget to be swimming against 17 and 18 year old girls who were going to be swimming for some of the most competitive schools. There were about 150 swimmers competing in her division, and she placed 22nd overall. Bridget was ecstatic and more proud of this accomplishment than of any other of her victories or competitions in which she swam.
"I was so excited when I got 22nd place, because I got to swim at night while my teammates cheered for me," Bridget said. She still remembers the moment very vividly.
Getting to know Bridget
Bridget is currently a sophomore and attends Glen Rock High School along with her sister (and triplet) Mary Kate Horton. Bridget and Mary Kate both get along really well, and share most of the same friends.
As described by their good friend, Anne Nebbia, a sophomore, Bridget and Mary Kate are  "the sweetest people you will meet, are fun to be around and are very reliable."
Bridget and Mary Kate are both active participants in extracurricular activities; Mary Kate plays lacrosse, and they both play soccer. However, Bridget's favorite activity is swimming for a program outside of school. She is currently swimming for the Wyckoff Sharks, a competitive swim team that practices at the Wyckoff YMCA.
Bridget is a very well-rounded swimmer. Her favorite strokes are the breaststroke and the backstroke because she feels she is strongest in these strokes, although she is also strong in the freestyle and the butterfly and is able to compete with them when necessary. Bridget is ranked fairly high in the state of NJ for her age for many of events, even achieving a number of top 10 rankings. She is also ranked fairly high in our regional area.
Although it is quite evident that Bridget has some natural talent for swimming, she has had to work very hard to get to where she is today. In fact, it is believed that Bridget is one of the hardest working girls in the sophomore grade.
"Bridget would pass up a night hanging out with friends to get a good night's sleep so she will be ready for swim practice the next morning," said her close friend, Emily Schaefer.
About the Horton children
Bridget does not come from a small family. In fact, it is rather large. She has five siblings: Meaghan, Joey, Casey, Riley, and Mary Kate.
Meaghan, Joey, and Casey are much older than Bridget. However, Meaghan and Casey seem to be around the triplets frequently. They practically live at the Horton household, and are always around for advice or even just a good laugh. Joey, although, is not seen as much by them, but is still loved by his siblings, and when they spend time together, it is extra special.
The Horton triplets (Bridget, Mary Kate, and Riley) have always been very close. They grew up playing sports and participated in other activities together. However, once they reached high school they were separated by two different high schools. Riley currently attends St. Peter's Preparatory School, and both girls attend Glen Rock High School. Riley is still living at the Horton household, although Bridget feels that she never sees him anymore with all the homework that he receives.
Bridget and the other Horton triplets started off her swimming career at a very young age. When they were six years old, they decided to take swimming lessons.Their decision to pursue swimming was inspired by their parents, who both swam competitively when they were younger. Right away, Mary Kate and Riley seemed to dislike it and wanted to quit almost immediately. But unlike the other two, Bridget quickly fell in love with the sport, and decided that it was something that she wanted to pursue.
After taking lessons for a number of years, Bridget started to take part in swim competitions and found success. Even though she has some natural talent, she is dedicated to improving because of how passionate she is towards the sport.
"She works so hard even when she doesn't feel 100 percent," said Mary Kate. "Even though I don't understand much about swimming, I can tell that she pushes herself really hard."
Participating in other activities
In addition to swimming, Bridget spends her spare time playing soccer. Although she dedicates more of her time practicing at the pool, she still enjoys getting out on the soccer field and kicking a soccer ball around every once in awhile.
Both Bridget and Mary Kate have been playing soccer ever since they were little for the "Glen Rock Shooting Stars," a club soccer team that competes against other towns in North Jersey. Wearing the numbers "11" and "12" on their jerseys, both Bridget and Mary Kate played for the "Shooting Stars" through eighth grade, where the club team eventually stopped running. From here, both girls joined the Glen Rock High School Team and have been playing for Mr. Fox, a P.E. and Health teacher at the high school, for the past two years.
On the field, Bridget and Mary Kate are two very different players, because they play two completely different positions. Bridget is a very strong central midfielder, while Mary Kate prefers to play on the more defensive end. They are both very dedicated and seem to have improved greatly over the years.
Their friend Emily Schaefer has also been participating on these soccer teams with Bridget and Mary Kate for many years.
"During the soccer season Bridget always trains hard and is respectful to her coaches, but we still have fun too," Schaefer said. "In games she leaves it all out on the field."
Competitive Swimming
Throughout her career, Bridget has been on two competitive swimming teams. She started off on the Ridgewood Breakers and has now made her way to the Wyckoff Sharks.
While swimming for the Breakers, Bridget had a fantastic coach with a lot of swimming experience, and she had a good personal connection to her. She goes by the name Patti Horton, but Bridget also knows her as "mom." Mrs. Horton is a good role model for Bridget because she also swam competitively in her youth.
Mrs. Horton was not just an average swimmer when she was younger. She was considered to be one of the top competitors in the 200 meter breaststroke in New Jersey. She was also the four time state champ in the breaststroke and two time record holder. When she was 17 years old, she was a participant in the National Junior Olympics.
Mrs. Horton was Bridget's swimming coach for about two years on the Ridgewood Breakers until they both switched over to the Wyckoff Sharks. However, Mrs. Horton is no longer Bridget's swimming coach.
She now coaches for children that are mostly 11 and 12 years old at the Wyckoff YMCA. These young children work hard: practicing four times a week and traveling to many competitions around the east coast.
Mrs. Horton started coaching because she "really enjoys watching the swimmers improve their skills, and therefore, their times."
Wyckoff Sharks
Bridget and the rest of the Sharks have two phenomenal coaches: Ken Berk and Francesco Peta, known as "Coach Berk" and "Coach Peta" by the team. They are great role models for the young swimmers because they swam competitively when they were younger as well, so they are able to put themselves in their swimmers' shoes.They know how to push their swimmers to become better, without tiring them out way too much.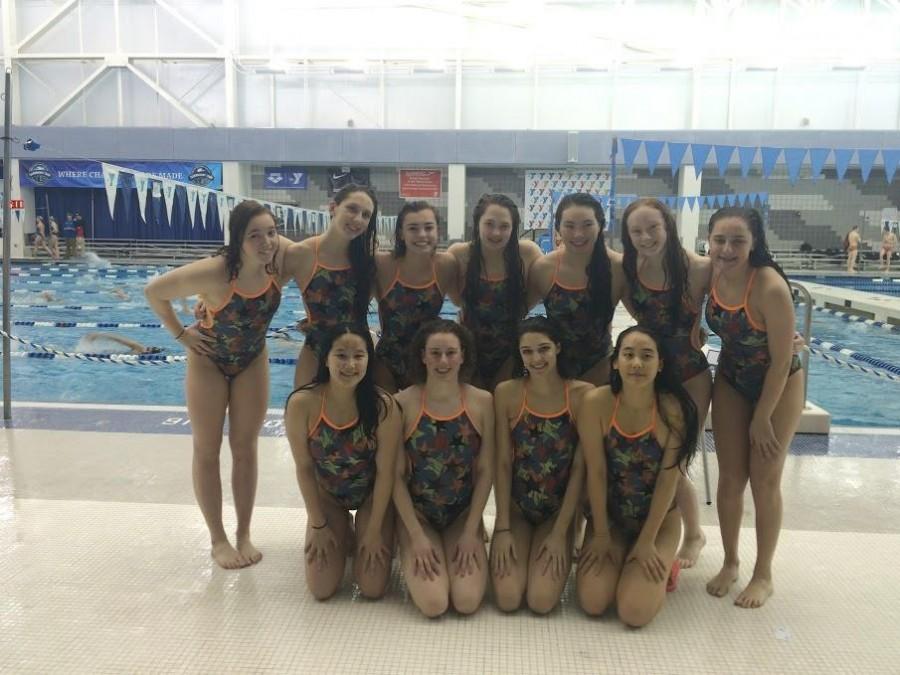 The swimmers for the Sharks attend many swimming competitions.The majority of the meets are held at Princeton University, Rutgers University, and in Lancaster, Pennsylvania, although some can be as far as Indianapolis, Indiana. This is where the team attends Nationals for the spring season, which is the biggest competition of the year.
Although very nerve-wracking, the swim competitions can also be a lot of fun. Especially for  a competition that is far away, there is a lot of time that is to be spent with your teammates, which allows them to bond and grow as a team.
Bridget is very close to all of her teammates. If Bridget could choose any role model, she would choose a member on her swim team, because of how dedicated they are and how hard they work.
"They are the ones who keep me motivated at practice and push me to be the best that I can be," Horton said.
All of these athletes spend six days training at the Wyckoff YMCA, spending two hours each session swimming in the pool. However, they do not just swim to stay in shape. They also spend another hour of practice doing extra dry land training (pilates, spin, aerobics, weight room).
Even though they spend so much time together training, they can even be found hanging out together on a weekend or during the summer break. The teammates have such strong relationships with each other that they are never bored when they are together.
"Swimming is not an easy sport", said Mrs. Horton. "You have to love it in order to spend this amount of time involved with the sport."
______________________________________________________________________