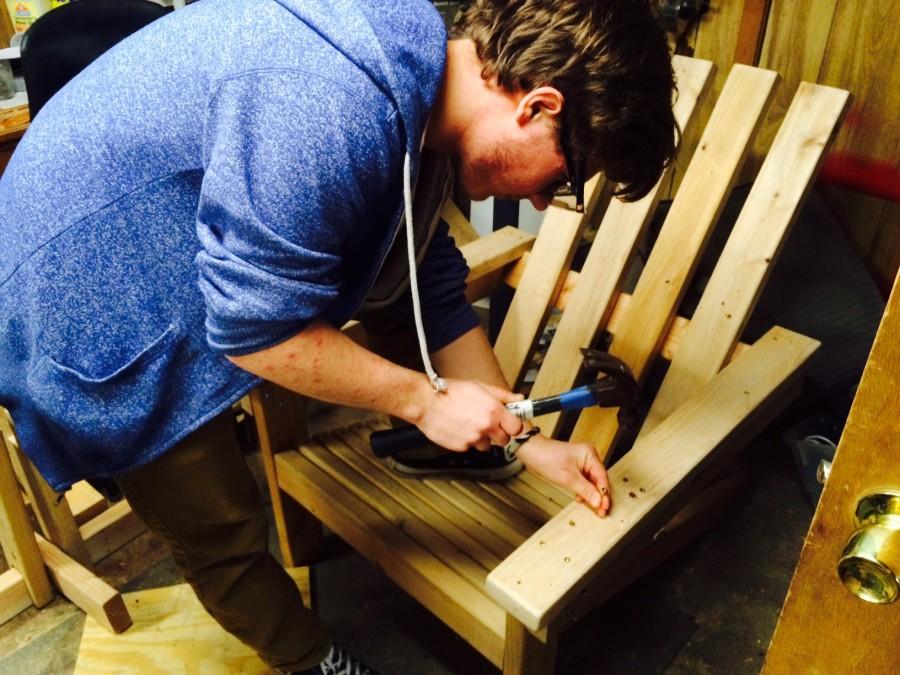 Part I: The Workshop
The terminus of a narrow, wooden staircase in Glen Rock opens up to a small, subterranean room: At first glance, seeming to  be a warzone of vintage Nintendo systems, electronic stringed instruments and amplifiers, and laundry supplies.
This is the basement of the O'Connell family, and while at first glance, it's not vastly different from many other Glen Rockian basements, a few steps toward the back reveal a more unique setting.
"Yeah, it's in the basement, and it's always been there, ever since I've been in the house," recalls senior Kyle O'Connell, reminiscing about his earlier days, finding solace in the workshop in the back of his basement that's been there as long as he can remember.
The workshop itself is pretty standard, as far as workshops go: a few wooden tables, cabinets, drawers, and hutches line the walls, on which the bulk of the tools seem to be kept — hammers, screwdrivers, saws (power and otherwise), scattered paint cans, drills, glues and epoxies, brushes and wrenches of every size and variety. There is a radio set, for entertainment purposes, as well as wall decorations including a mounted "Dead End" sign.
Some of O'Connell's earliest memories of the workshop are of his father, crafting small toy cars for his siblings and him to play with. His father, Tom O'Connell, is only slightly taller than his son. He's intelligent and confident, but not gruff and stocky in the way that society would expect of a woodworker. And Kyle's like this, too — intellect and nimbleness guide him along in his woodworking endeavors.
His own fervor for woodworking started in elementary school, when he was part of the Boy Scouts, carving out car-like figures for the "Pinewood Derby." The Pinewood Derby is a wooden car race that, according to the Boy Scouts of America, was developed for the purpose of "strengthening bonds, sharing responsibility, developing teamwork, learning new skills, exercising creativity, building sportsmanship, and making new friends."
Cub Scouts, the first through fifth grade members of the BSA, work with their fathers or mothers to construct small, wooden cars out of blocks of wood, which they subsequently race on a track. The key to crafting a winning car lies in both the practical and cosmetic aspects; A nice-looking and aerodynamic car has the potential to win both the speed and the design competitions.
And O'Connell's Pinewood Derby cars did just that. He recalls winning both competitions in his first derby, and winning the design competition in his second. "That was really awesome," he reminisces. "And it was like the simplest design, too." He recalls it being a blue pickup truck with a barrel in the back and exhaust pipes flaring out the sides.
Kids often can't be trusted with bandsaws and blocks of wood, and frequently, it's really the moms and dads doing most of the work; but not in O'Connell's case.
"He let me work on the cars a lot," O'Connell says. "I had a lot of creative control."
Throughout O'Connell's life, his close-knit relationship with his father has been interwoven in woodworking. Working with wood is something that appeals so naturally to primitive human instinct that it's hard to set out on a crafting venture without forming some tight relationships on the way.
It's also the type of thing that gets passed down through generations, and O'Connell meditates on the woodworking skills of his father's father. "[My dad] still teaches me techniques and stuff like that, that he learned from his father."
But, playing around with wood and power tools is not safe without the proper precautions and know-how, and to reiterate the old saying, "dads will be dads," or something to that effect. "He worries and stuff like that, but that's for the better," O'Connell says affectionately, regarding his father. "He still wants me to be safe, but he understands that I can handle this on my own; I'm old enough to know what's safe and what's not."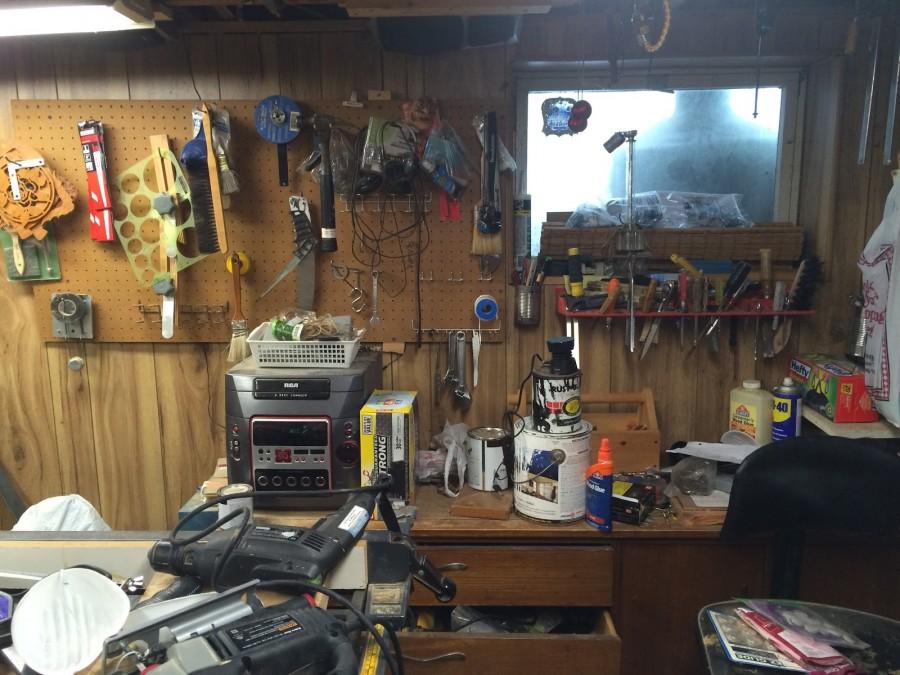 Part II: A Practical Art
While he took quite a hiatus between his Pinewood Derby days and high school, O'Connell's passion for theatre, especially the technical aspect thereof, has been instrumental in cultivating his affinity for craftsmanship.
O'Connell helped set up a stage for Five Corners Theatre Company in the summer of 2014. "We reused it, it was like a set of panels that we put together," he commented. "I didn't build it initially," he added, stating that the stage was designed by some friends of the organization." He also added that — with the help of his carpentry skills, no doubt — he was able to rebuild and reinforce the stage. The performance went off without a hitch.
In addition, he's done extensive work for Glen Rock High School's own productions, constructing a table for the Theatre Company's fall production of Great Expectations, and Gaston's chair for the musical's production of Beauty and the Beast. Other credits include participation in the set construction for the Theatre Company's Get Smart and various spring shows, as well as for the musical's productions of Grease, A Funny Thing Happened on the Way to the Forum, and The Drowsy Chaperone.
Likely one of O'Connell's most impressive attributes is his eye and adroitness for simply putting things together. Often, even the most seasoned veterans of woodworking have to sketch out and methodically plan out their task, but not O'Connell: "I know how everything fits together, and I know that it's gonna work."
Which is not to say that O'Connell is not organized: He's very systematic in most aspects. Woodworking is just something that comes naturally to him.
This natural instinct aided O'Connell, alongside his close friend and fellow senior Dylan Kennedy, when they were enlisted to create a set piece for the Theatre Company's Spring Scenes 2015. This set piece was something neither of the two had ever attempted to construct before: A washing machine.
It was decided that a hole should be cut into the top of a large black cube that the Theatre Company had on hand: and who better to do the job but the resident handyman, O'Connell himself?
With Kennedy handling the cosmetics– painting, adornments, things of that sort– O'Connell reinforced the wooden cube, cut the opening in the top, and applied an apparatus that allowed the wooden door to swing open without overextending. "With set pieces, you get the function down first, you get what it needs to do, and needs to be able to hold. Like, the weight it has to hold, what has to move, and what it has to do, all that stuff. Then, the aesthetic is the later bit," he says of his work in tandem with esteemed artist Kennedy.
Part III: A Fine Art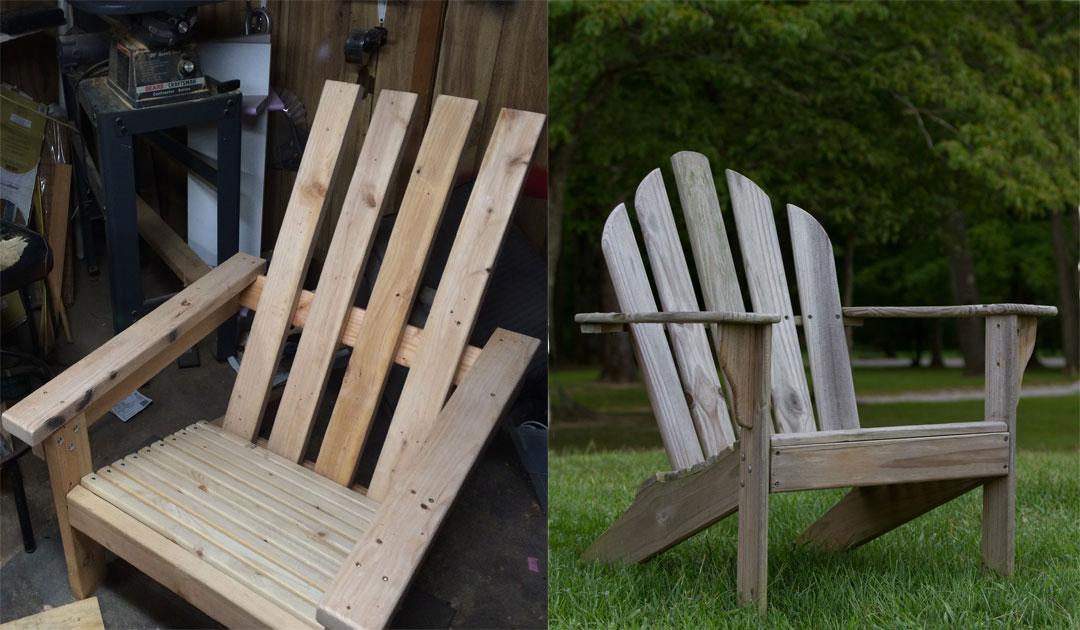 While crafting furniture is highly practical, O'Connell admits that he has to focus on the aesthetic pleasure of piece, especially when it's going to appear up onstage. One way he's able to do this is by experimenting with woods of different hues and grains.
Recently, O'Connell and his father recently attended a woodworking convention, at which they purchased a myriad of woods to use in building: walnut, butternut, and cherry, just to name a few.
"I'll probably develop that as I start working with wood more. My father, for example, his favorite's walnut, which is like a nice, dark wood."
Part IV: Inspiration
O'Connell's own creation, left, mimics the traditional Adirondack chair, right, while incorporating his own vision.
Like many other artists, O'Connell uses the work of others to spark inspiration for his own pieces. He tends to start each piece with a Google search– Finding images of chairs, tables, and the like
He recently built an Adirondack chair (above), "just for the heck of it," because he had some extra wood lying around. Before commencing the build, he looked up pictures of Adirondack chairs, and used them as templates.
O'Connell's own interpretation is evident in his work, too– The planks forming the back of his Adirondack chair stick straight back, contrary to the convention of fanning out and curving.
Part V: Who Really Is Kyle O'Connell? Who Will Kyle O'Connell Be?
"Reflections and Projections"
In the fall of 2015, Kyle J. O'Connell will be starting in Alfred University's Renewable Energy Engineering program; Alfred is one of the few institutions that offers such a curriculum. While his intended major doesn't exactly fall in line with his carpentry skills, he still intends to pursue woodworking as a hobby, aiming to balance chair and table making with the research and implementation of alternative energy sources. He wants to continue doing both of these things his entire life.
Sophomore Bridget Darcy, one of the Theatre Company's stage managers, says it best, with the utmost admiration and respect for O'Connell's craft: "It's, like, unusual for a high school kid to be that into woodworking."
And, rest assured, the generational tradition of craftsmanship does not stop here: "My plan for life is to continue woodworking until I die. With my children being around, while I'm doing all that, they're bound to pick up something."
O'Connell really has no use for some of the pieces he makes after he's finished, and plans to start selling a few of them. "It's really the process that I get the most emotional gain out of."
Maybe this whole woodworking thing is more pertinent to life's journey than we thought.
Part VI: More Info
"Shameless Plug"
For more info about the people mentioned in this article:
Dylan Kennedy can be found on Instagram @minidracula
Bridget Darcy @bridgetdarcy925
Tim Mountain (myself) @tim_mountain
And, of course, Kyle O'Connell himself @kylejocn