Carpe Diem: Latin Students Seize the Day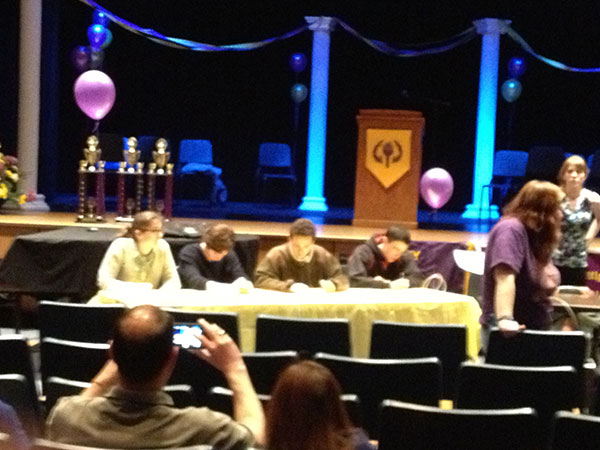 On April 27, Latin Students captured the day at the 2013 New Jersey Junior Classical League state-wide convention at Gateway Regional High School, in southern New Jersey. The trip was lead by Glen Rock High School teacher of Latin, Ms. Roberta DaGiau.
"The convention offered an opportunity for all students of Latin to submit pre-judged and on-site entries," Ms. DeGiau, "Many students received 1st, 2nd, and 3rd place recognition for their entries."
Although the bus trip was long, it was worth the wait. The event started out with a gathering of all participating schools in attendance. During this assembly, many officers from the NJJCL Executive Board spoke, followed by the Superintendent and Principal of Gateway Regional High School. Afterward, students had the option to participate in various contests yet some came only to watch sporting events — including the chariot races.
One main purpose of the trip was for the Upper level Certamen team (Certamen means contest in Latin) to compete for the state title.  The Glen Rock Upper Level Certamen team placed 2nd statewide.
Ms. DaGiau said, "I was proud of our Upper level Certamen team who placed 2nd at the NJJCL State Convention. They worked very diligently to prepare for the competition. They are truly dedicated to the study of Latin. "
Brady Miller, a sophomore who is on the Upper Level Certamen team, calls the experience a "good time, I liked the enthusaism and spirit of the whole trip."
Many students may call Latin a "dead" language, but on April 27, 2013, Latin was very much  alive for both students and teachers of Latin throughout New Jersey.